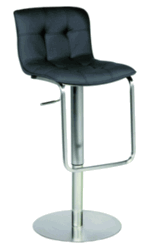 We are redoubling our efforts to give customers the best experience possible
San Francisco, CA (PRWEB) May 09, 2012
BarStoolsForLess.com, an up and coming U.S. retailer of swivel bar stools and other types of home furniture seating, is announcing today, the start of a new "hassle-free" return policy. The company has published details on its websites, and initial reactions are positive.
A company spokesperson for BarStools For Less commented on the announcement, "While other retailers are increasing their prices and making returns prohibitive, we decided to make a stand the other way. We are redoubling our customer service efforts and will continue giving customers an easy experience when they need to return something to us."
When asked to give more details of the policy's conditions, the spokesperson said, "Customer service is our top priority, which is why we are announcing this super clear returns policy. That policy is, if a customer is unsatisfied for any reason with a purchase, they may return or exchange it within 15 days of delivery. Items must be new, in unused condition, and returned in their original packaging in resalable condition."
The spokesperson noted the two main situations in which the returns policy would not apply.
"Special or customized options such as where fabrics or colors or other options are personalized, are non-refundable as are any items that have been assembled. Customers are reminded to keep all original packaging and invoices in the case of a return request eventuating."
"This policy is important as it lets customers check out any item at this page, for example barstoolsforless.com/swivel-bar-stools.html and know that they'll be able to return it if they need to.
A customer of BarStoolsForLess.com, Hilary Kirshner, a salon proprietor from Boston, MA welcomed the news of the new returns policy. "This policy is very fair and practical, in my opinion. I would probably shy away from buying stools for my hair salon if I knew the process of returning the items would be painful at best and impossible at worst. This policy takes the sting out of it, and I'm more excited to check out their line of swivel stools now."
Full details go to FAQ section, located in the footer of this page: http://barstoolsforless.com/swivel-bar-stools.html
###