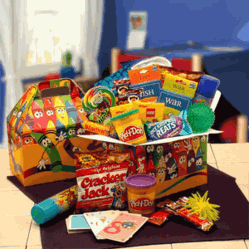 Children's gift baskets are our new growth area
San Francisco, CA (PRWEB) May 04, 2012
The website of gift baskets for kids retailer MyGiftBasketIdeas.com features a new sales promotion that includes gift baskets for children, among others. The company is offering discounts of up to 28% on some items.
A spokesperson from MyGiftBasketIdeas.com told of the reasoning behind this announcement and decision to hold a sale at this time of year.
"The decision to announce this promotion has been influenced by our clients' shopping habits. We recently consulted with a sample of customers regarding their preferred times for sales promotions. In responding, many said that they were more interested in online sales in May and June. As such, it made sense to give shoppers what they want, when they want it most."
The spokesperson was asked to share details about findings of the consultation. "The statistical results of the customer consultation indicate that certain lines in this sale are likely to sell out. We welcome the results of this consultation and hope that customer uptake is keen as predicted."
The company spokesperson invited customers to browse the selection of items available in the mid-season sale and gave examples of some products benefitting from discounts.
"Gift baskets for kids are well represented in the sale and are one of the lines which the consultation survey earmarked as likely to fly off the shelves. Shoppers are invited to grab a Kid Birthday Gift Basket and save 28% off the original price."
"For a little one feeling under the weather, the 'Get Well Gift Basket' can make a nice gesture to cheer him or her up. It contains fun goodies by the boatload and it also reduced by 28%. We encourage shoppers to act fast while stocks remain available."
A review of the company's website found a wide variety of other items particularly for kids and children. The address is:
http://www.mygiftbasketideas.com/gift-baskets-for-kids.html
###