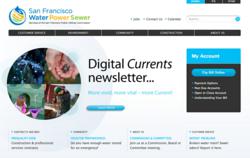 A well-designed website where residents can easily find the info they need is a reward in itself.
Palm Springs, CA (PRWEB) May 04, 2012
The redeveloped San Francisco Public Utilities Commission website - http://www.sfwater.org - was awarded the prestigious Award of Merit during the Excellence in Communications Awards Ceremony at the 2012 CAPIO Annual Conference.
The SFPUC launched their updated government website under a tight deadline in July 2011. This efficient launch was made possible in part by their teaming with the government website team at Vision Internet. Since the launch, the site has been well received by staff members, San Francisco residents, and local government tech communities across the US.
Unique features of the website include a dynamic footer that streams current news and Twitter feeds, a secure and easy-to-use online bill pay system, interactive community calendars, and interior grid navigation that graphically engages users to discover more about everything from recycling water to residential rebate incentives.
Public Relations Officer and Webmaster Benito Capuyan recently commented their experience while working on the website.
"The SFWater.org redesign was a very exciting project. We had an outstanding team from both our IT and Communications departments and especially from the software provider Vision Internet. Together, we achieved the redesign under budget, on time and on a very tight schedule of less than 3 months. At the end of it all, a well-designed website where residents can easily find the info they need is a reward in itself."
The website runs on the Vision CMS™, a powerful government content management system developed by Vision Internet. It is a well-crafted government CMS used by over 400 local government agencies across the US and Canada. The City of San Francisco uses the Vision CMS to power over 2 dozen websites to keep content fresh, organized, and easily accessible to the public.
To learn more about San Francisco's award-winning public utilities website, please call Vision Internet at 888.263.8847 or email info(at)visioninternet(dot)com.