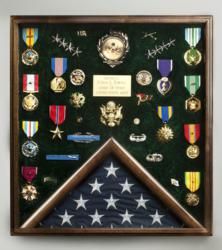 Legacy Display Cases asked a leading designer to create a shadowbox display case of General Colin Powell's medals
Los Angeles, CA (PRWEB) May 04, 2012
Online store Legacy Display Cases wants to get military awards out of exile in forgotten chest drawers and in front of a veteran's family, friends and visitors. To showcase the impact of military award shadowboxes, the store sponsored creation of a shadowbox case display showcasing General Powell's awards.
What does a person with a distinguished military or law enforcement career do with their medals when they no longer wear a uniform to display them? To inspire veterans and families, Legacy Display Cases asked a leading shadowbox designer to create a shadowbox display case of General Colin Powell's medals and ribbons.
Top designer Terry Vandever in southern California responded with a heroic design. Her 30 year career at Camp Pendleton included manager of The Main Uniform Shop and Officer and Military Memorabilia Buyer. Since retiring, she has devoted her life to military medals shadowboxes.
"We know something about the showmanship in displaying collectibles and family heirlooms," said Michael Knab, president of Legacy Display Cases and other collector-related sites. "Terry has managed to visualize a brilliant career. You can feel the rich experiences behind each medal and ribbon!"
There are 29 military medals and pins that appear in the military medal display case. Included are his four stars, Joint Chief of Staff's badge, Vietnam Service Medal and badges for Combat Infantry, Air Assault and Parachutist. It is a thrill to create a military award display for a highly decorated four star general, former chairman of Joint Chiefs of Staff and almost a household name. Terry points out you don't need to be a four star general to deserve and enjoy a military award display case.
"It's something I hear far too often," says Terry. "Veterans sometimes feel they don't have enough medals to fill a box or make it worth having. Or maybe there are too many medals. But with the right size and type of display case, and a little inspiration and taste, you can put something together that will be a remarkable family treasure."
There are some rules of precedence from the military services, but the main goal of the shadowbox is show business. When a visitor looks at the display case, will they be drawn in to appreciate the milestones of a heroic career?
"To inspire someone to undertake a display of awards is our purpose," Knab pointed out. "It could be a military display case for themselves or a loved one or as a police retirement gift. It's how we celebrate a life of commitment."
Legacy Display Cases is an online store specializing in display cases for medals, sports memorabilia and collectibles like scale model cars and trucks. It is a member of the Great Legacy Company suite of online stores.