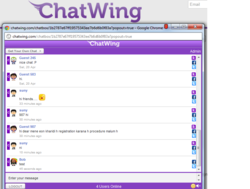 Tucson, AZ (PRWEB) May 03, 2012
Novel writing has never been easier, thanks to the how-to websites that were created all over the Internet. Adding to that, successful writers have also maintained chatrooms and blogs, detailing their experiences. New writers who are constantly scraping for ideas can take advantage of a website chat tool known as Chatwing. This application is built to provide an efficient avenue of communication for everyone.
Chatwing operates on a straightforward platform, so users don't need to spend a lot of time cracking complicated commands or downloading anything. Through simple clicks, the user will gain access to different insights from other people all over the world. There are hundreds and thousands of topics that can be talked about in Chatwing. The most common topics are those related with the host blog. This free chat box also introduces a very easy installation mechanism that doesn't take much time.
Recently, Chatwing has branched out to writing communities, giving extra opportunities for young novelists. In Chatwing's latest release, writers have always talked about the proper ways to write and the process on how to improve character. Apart from that, they also love to discuss great writers such as JK Rowling, Stephenie Meyer, JRR Tolkien, and Neil Gaiman. As an important bonus, Chatwing allows users to log in using their Facebook accounts. This makes personal information exchange easy.
"Chatwing is fun to use," Commented by one of Chatwing's users. "I can tinker with cute avatar displays and blocky emoticons. Plus, the chat box is really easy to use and relaxing. I tried using it for my blog, and the purple color has the right fit. The discussions are really entertaining, and I love to watch my visitors talk about a certain thing."
In few months, Chatwing's developers are planning to make the shout box faster in order to accommodate more chatters and visitors. They are also updating the Chatwing blog on a regular basis in order to deliver the information to their users speedily.
About Chatwing.com
Chatwing.com is a free shout box for all web pages or blogs. It also lets anyone create free chatrooms on any website or blog. The Chatwing.com website offers users the ability to signup and create a customizable live chat box instantly with few details. Users have the ability to select the size, dimensions, and colors of the shout box. The ability to live chat with Facebook, Twitter or guest avatars is a unique feature which includes social sharing features in real-time. Chatwing is free chatroom software available to any user.