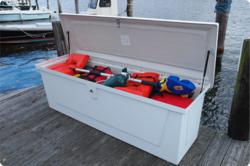 Proper safety is crucial on the water
Deer Park, NY (PRWEB) May 17, 2012
May 19-25 is this year's National Safe Boating Week. In celebration of the annual program, designed to improve awareness of proper boating practices and minimize drowning, DeckandDockBoxes.com is giving away a safety guide to help recreational boaters avoid danger.
"Nothing's better than spending time on the water on a beautiful summer day, but it's even more important to avoid mistakes that can cause serious danger," said Steve Barron, president of Deck and Dock Boxes. "Our free guide is designed to provide key information and access to additional information, like safe boating courses."
Whether you're a fisherman, sailor or motorized boat owner, there's essential information on life jacket Do's & Don'ts, care and maintenance for personal floatation devices, why carbon monoxide is even more dangerous on a boat, the importance of a float plan, and much more.
Designed to be concise and also contain resources with a wealth of additional information, Deck and Dock Boxes' safety guide can be taped in a key place on a boat or inside the lid of a dock box for easy access.
"Many of our clients tell us they use our dock boxes to store life jackets – and we even have one designed especially for that purpose – so keeping a copy of the guide there makes perfect sense, especially since it includes information on how to keep your personal floatation devices in tip-top shape," said Barron.
Because one of the glories and dangers of boating is being out in the elements, weather preparation is a sailor's best friend. Yet too many new boaters make simple mistakes that can have dire consequences, and even experienced boaters can become careless. So the safety guide even includes tips for safe practices in hot weather, sudden storms and cold weather/water.
"We really tried to make it the most helpful, yet simple, guide possible. We're a family-owned business so our customers' safety is a priority," said Barron.
The Deck and Dock Boxes' Safety Guide can be downloaded for free at https://www.deckanddockboxes.com/boating-safety-tips.html
DeckandDockBoxes.com has products for virtually every deck, dock and boating use to protect and organize all types of outdoor gear. DeckandDockBoxes.com is a subsidiary of Barron Designs Inc., a family-owned business operating since 1972. For more information, visit DeckandDockBoxes.com.