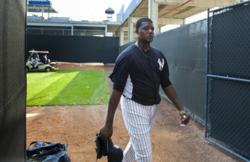 Tickethunteronline.com Announces a 30% Mark Down On all Yankees Tickets.
Los Angeles, CA (PRWEB) May 02, 2012
Cheaper unwanted Yankees Tickets have been available through Stubhub for a fraction of the price they could be purchased from the Yankees directly for a few years now. The Yankees and many other MLB franchises with similar issues are not happy with this, reports the New York Post.
A fan could browse the popular ticket site via a link directly on the Yankees website. Tickets that the Yankees sell for $15 would be going for under $3. The major issue is Stubhub does not dictate prices. It's a fair market system where the individual sellers of tickets make the market. Concerns arise because the ticket sellers the majority of the time are not individual fans rather, they are ticket brokers manipulating prices. Competing websites such as Tickethunteronline.com strictly prohibit ticket brokers from selling on their site and work on a discount basis instead.
Stubhub's contract with Major Leage Baseball is over at the end of this season. Reports say the New York Yankees and Anaheim Angels just to name a few would like the E-tailer to regulate ticket prices offered for sale on their site.
There are slim chances of this happening since Stubhub and parent company E-bay have business models that contradict this. There are discussions of Instituting a premium charge to tickets sold under face value. This seems like a more likely outcome since it wouldn't beneficial for the MLB to end there relationship with the ticket resellers.
This is good news for Stubhub competitors like Ticket Hunter Online. Representatives of the company commented that the supporting ticket brokers are over all bad for the fans.
"Stubhub promotes ticket brokers who buy up all the tickets before casual fans can have a chance to get them at market value. They then drive the prices up on the most desired seats making it nearly impossible to afford. Our business model works on discounting prices so all tickets are available to fans" said Michael Quinones CEO of Ticket Hunter Online.
Tickethunteronline.com, one of the top discount ticket sellers on the web is offering a 30% reduction on all New York Yankees Tickets for the remainder of the season using promo code "Wicked".