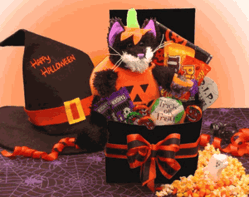 It sounds crazy, but sometimes people pre-order this far in advance. And, other times people send scary baskets out of season as a joke
San Francisco, CA (PRWEB) May 06, 2012
MyGiftBasketIdeas.com, a leading retailer of Halloween gift baskets and other themed collections, announces Halloween candy gifts are now available for early order in advance of October 31st. Customers are able to visit the website and select the items of their choice now and have them delivered.
A spokesperson from the company was asked to explain the decision to offer such early availability of these items on their website.
"Our decision to order advance stocks of Halloween themed goods is taken to assist customers in planning their gift selection and maximize access to the best selection of items at competitive prices."
"Holiday planning is stressful for many people because of the 'rush and panic' factor of late preparation but the most still really enjoy the fun of selecting gifts for loved ones. Allowing people the chance to plan comfortably brings the joy back into the holiday preparations while alleviating the unpleasant worry."
The spokesperson continued, "Customers have expressed their appreciation of the advance purchase method. The convenience of being organized early holds great appeal for our shoppers who may be juggling a number of time-intensive commitments just before the holidays."
"We encourage shoppers to advantage of some great discounts that are available such as the Halloween gift baskets. Further early-availability holiday lines may be added according to customer demand."
A review of the company's website revealed some Halloween gift baskets reduced in price by up to 27%.
The spokesperson shared details of an email in which one customer, Mrs L from New Haven, CT wrote, "I am delighted that I can order ghostly-goodies for my grandkids now and not have to panic about stuff going out of stock as it gets nearer. I prefer to order early and benefit from generous discounts and on-time delivery. Will other retails follow suit?"
The retailer reports that also some people send spooky gifts at other times of the year as a joke gift, and this is also why they keep a year round inventory of Halloween and other Holiday items.
The company's range of holiday related presents can viewed at http://mygiftbasketideas.com/holiday-halloween-gift-basket.html
###