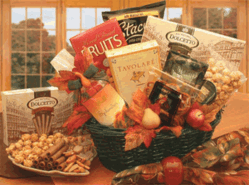 It may seem early to be thinking about a Holiday 6 months away, but you can never be too prepared!
San Francisco, CA (PRWEB) May 10, 2012
MyGiftBasketIdeas.com, a leading retailer of Thanksgiving gift baskets and other holiday and occasion themed tokens, announces that thanksgiving baskets are now also available for early order here.
A spokesperson from the company was asked to explain the decision to offer such early availability of these traditionally fall items on their website.
"Following the popularity of advance availability for Halloween gift baskets, we decided to add to the repertoire of holiday themed presents available for early birds. Due to customer demand, Thanksgiving gift baskets are the next holiday to receive the 'buy early, don't panic' treatment."
The company also noted that Thanksgiving gift baskets which celebrate abundance and gratitude can also work as year round presents as well, and not just in November.
Here are some food related facts about Thanksgiving from history.com:

According to the U.S. Census Bureau, Minnesota is the top turkey-producing state in America, with a planned production total of 46.5 million in 2011. Six states—Minnesota, North Carolina, Arkansas, Missouri, Virginia, and Indiana—account for nearly two-thirds of the 248 million turkeys that will be raised in the U.S. this year.
The National Turkey Federation estimated that 46 million turkeys—one fifth of the annual total of 235 million consumed in the United States in 2007—were eaten at Thanksgiving.
In a survey conducted by the National Turkey Federation, nearly 88 percent of Americans said they eat turkey at Thanksgiving. The average weight of turkeys purchased for Thanksgiving is 15 pounds, which means some 690 million pounds of turkey were consumed in the U.S. during Thanksgiving in 2007.
According to the Guinness Book of World Records, the largest pumpkin pie ever baked weighed 2,020 pounds and measured just over 12 feet long. It was baked on October 8, 2005 by the New Bremen Giant Pumpkin Growers in Ohio, and included 900 pounds of pumpkin, 62 gallons of evaporated milk, 155 dozen eggs, 300 pounds of sugar, 3.5 pounds of salt, 7 pounds of cinnamon, 2 pounds of pumpkin spice and 250 pounds of crust.
The full line of fall / thanksgiving themed items can be seen at: http://www.mygiftbasketideas.com/holiday-thanksgiving-gift-basket.html
# # #