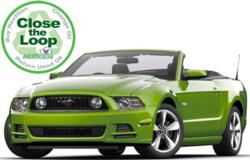 Torrance, CA (PRWEB) May 08, 2012
Valvoline, a brand of Ashland Consumer Markets, a commercial unit of Ashland Inc., and autoMedia.com are proud to announce a new partnership aimed to promote clean, green and efficient driving habits, bringing together the benefits of Valvoline's new NextGen Recycled Motor Oil and the eco-minded autoMedia.com Green Corner. The NextGen brand will sponsor the online section, which highlights new products and offers advice to readers looking to improve driving efficiency and recycling knowledge.
Valvoline has long been a leader in automotive innovation. Its NextGen recycled motor oil is 50 percent recycled from used oil, making it better for the environment by reducing the need for new drilling and dependence on crude oil. Valvoline selects the highest quality recycled base oils, re-refines them, and formulates with its additive technology to ensure the oil meets their high standards.
How good is it? This season, Roush Fenway Racing is using Valvoline NextGen Recycled Oil technology in all of its NASCAR Sprint Cup entries. Any questions about the performance of NextGen were quickly answered in 2012, as Roush and driver Matt Kenseth won the hallowed Daytona 500 powered by NextGen technology. Roush teammates Greg Biffle and Carl Edwards qualified on the front row, making a clean sweep for NextGen during one of the most famous race weekends in the world. If NextGen can handle one of the most rigorous competitions around and come out on top, it's sure to provide excellent protection in any car.
To prove that Valvoline isn't just trying to sell more products, they're offering a $20 store gift card mail-in offer to any consumer participating in the new Close the Loop program when consumers return used oil and buy 5 quarts of NextGen motor oil. By choosing Valvoline NextGen then changing your car's oil and finally returning the used oil, Valvoline is redefining the idea of what it means to "close the loop" on motor oil recycling. Consumers can visit Valvoline.com to see participating auto-parts retailers and find out more details.
About autoMedia.com
The auto website was launched in September 2000 by a team of automotive editorial, design, and publishing professionals, with the goal to be the premier provider of quality automotive content on and for the Web. Today it features over 92,500 pages of original articles, including over 2,500 features researched and written by leading automotive experts, covering new and used car buying, new vehicle previews, road test reviews, car care maintenance, professional driving advice, and technology. Automotive enthusiasts and new car shoppers can read about the latest industry news, pricing, rebates and incentives, view photo galleries and research details on all makes and models. For more information, visit autoMedia.com.
Ashland Consumer Markets
Ashland Consumer Markets is a leading, worldwide producer and distributor of premium-branded automotive, commercial and industrial lubricants and car-care products. It operates and franchises more than 880 Valvoline Instant Oil Change™ centers in the U.S. It markets Valvoline™ lubricants and automotive chemicals; MaxLife™ lubricants for cars with higher mileage engines; NextGen™ motor oil, created with 50-percent recycled, re-refined oil; SynPower™ synthetic motor oil; Eagle One™ and Car Brite™ automotive appearance products; and Zerex™ antifreeze. Key customers include retail auto parts stores and mass merchandisers who sell to consumers; installers, such as car dealers, repair shops and quick lubes; commercial fleets; and distributors. See ashland.com for more information.