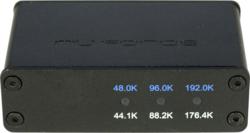 Milpitas, California (PRWEB) May 14, 2012
NuForce, Inc., a leader in professional and consumer audio gear, announces today the digital signal converter – The NuForce U192S is a digital signal converter designed for transforming digital audio signals presented to the USB port of a computer into a coaxial or optical S/PDIF type commonly encountered in high performance digital-to-analog converters (DACs). The U192S accepts data word lengths of 16 and 24-bits at a maximum sample-rate of 192kHz, thus permitting playback of high-resolution digital audio recordings via the more common USB ports found on computers.
This unique digital signal converter is USB-powered, no external power supply required and 44.1, 48, 96, 176.4, and 192kHz sampling rates supported.
Product Specs:
Input
•USB (USB 2.0 compatible)
•Supported Operating Systems:Windows XP, Windows 7 (32-bit and 64-bit), Mac OSX
•USB DAC: USB 2.0 compatible. USB native bit rate: 44.1, 48, 96, 176.4, and 192 kHz, 24-bit
•Maximum sampling rate: 192kHz
•Resolution: 16 or 24-bits
Output
•Digital Output: coaxial RCA 75-ohm and optical TOSLINK
•Digital Output Signal Level: 1.0Vpp
•Bit Resolution:16 or 24 bit
•Supported Sample Rates:44.1, 48, 88.2, 96, 176.4 and 192 kHz
Power
•USB Bus Powered, 80 mA/5V
•Maximum power consumption: 150mW
Dimensions
•68x38x21mm
Included Accessories
•USB cable (1 meter)
Pricing and Availability
The NuForce U192S is priced at $149 and it is available today from NuForce.com and NuForce resellers. For more information on these or any other NuForce products, contact PR representative Jessica Darrican at 305-576-1171, extension 16.
About NuForce:
Based in Milpitas, California, Nuforce first gained visibility for its patented Class-D power amplifiers, earning numerous awards from audio publications in the U.S. and Japan. Building upon its reputation as a company that developed state-of-the-art audio products, Nuforce worked diligently to expand its product line with digital-to-analog converters, in-ear and over-the-ear headphones, speakers and subwoofers, cables, additional home and headphone amplifiers, and other high-end audio accessories.
Today, Nuforce is sold internationally and remains firmly committed to being a high-performance consumer electronics company adhering to stringent quality standards, ensuring integrity and value in every Nuforce product.