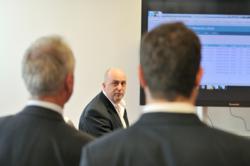 I've just witnessed something I didn't think was possible!
London and Hong Kong (PRWEB UK) 4 May 2012
"It was something of a 'Who's Who' in the Video industry" commented Michael Grant - Founder and Group Operations Director. "We were absolutely delighted, not only because of the superb support and level of excitement from our colleagues and partners during the build-up to the event, but also because of the way in which they responded to the ground-breaking intellectual property we show-cased."
Karl Perkins, the Group's Technical Director - who also leads the group's R&D strategy - demonstrated a selection of unique technical innovations that seemed to greatly impress the audience. One of the delegates - a senior player in the VC industry - commented; "I've just witnessed something that I didn't think was possible - we've been trying to do what Karl has just done for years - and, apparently, it only took him a few weeks to develop. I can't wait to see what else they have up their sleeve!".
Perkin's star attraction was a demonstration of the first-ever prototypes of cloud applications for real-time secure management, control and reporting for Visual Collaboration, that is multi-network, multi-customer and multi-partner aware. No other Managed Video Service Provider has been able to tackle and solve these problems within a customers' existing network. Until now.
Bjorn Skeens - the Group Commercial Director - said in a statement "A film producer could not have cast such a diverse set of attendees, and we thank both end users and partners for enriching our launch. It's clear, and on a startling scale, that customer demand and appetite for visual communication managed services is increasing at a massive rate, and that their needs are largely and often not being met. It's also a huge untapped revenue stream for channel partners. UCi2i will address both need and opportunity for all very quickly!"
"Getting the balance perfectly right between the customer's need for a great experience, ease of use, grade-A tools and Applications, great quality, value and service - and - the channel partner's need for great deliverables, margin and support."
The market has been eagerly awaiting the official launch of UCi2i. It looks and sounds as though the excitement has been justified. And now it's well and truly open for business.
About UCi2i:
UCi2i is - globally - defining a new class of managed video service provider; the Video Carrier. As a dedicated service-provider for business-class video collaboration, UCi2i is the first MVSP to remain proactively independent of technology vendors.
UCi2i's video network enables users to connect with each other intuitively, through a variety of cost-effective service plans - agnostic of users end-point technologies and without need for the significant additional infrastructure investment, which until now has remained the greatest barrier to user-adoption. UCi2i is a dedicated service provider and does not sell video collaboration hardware. This approach enables resellers of all video conferencing hardware vendors to immediately de-mystify video collaboration sales by simply - and yet powerfully - blending UCi2i's comprehensive service offerings with their end-point sales.
More information is available on the UCi2i interim web site, at http://www.uci2i.com