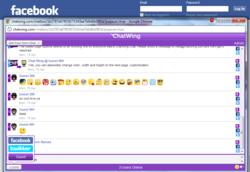 San Jose, CA (PRWEB) May 03, 2012
There are many websites and blogs dedicated to the creation of Jello shots. This has been proven by people's desire to party every now and then. Anyone can now gather ideas from a chat box known as Chatwing. This simple application reaches out to everyone simultaneously, fuelling the rate of idea generation.
Chatwing's developers believe that everyone has wacky ideas but they are just unaware how to share them. Now, the latest version of Chatwing is being released under the peg of 'rare ideas from people.' This simply means that everyone can now share ideas through the empowerment of website chat. Jello makers are those people who need rare ideas every now and then. This is because of the fact that their colorful Jello shots can really make any party wild and fun.
"Party bloggers have used Chatwing the moment it was released and soft-marketed. The demand for Jello shots have increased over the last few months, and it is still growing. Now, we are tweaking the Chatwing shout box so that it can provide top-rate service for everyone," says Michael Diamond, one of Chatwing's veteran developers.
One of the best things about Chatwing is the Facebook integration feature for website chat. Through this, guests and visitors can now log in using their Facebook accounts. This is useful for people who are looking for new friends and acquaintances. For Jello makers, this is another way to expand their party horizon.
Jello bloggers can also install the Chatwing shout box for their blogs. The steps are simple and take only a few minutes. Chatwing chatrooms also allows users to customize the widget. Height, width, color, and title are the factors that can be modified. Once everything is complete, Chatwing will now generate the needed HTML code. After embedding, the widget usually goes live in just few seconds.
About Chatwing.com
Chatwing.com has developed live chat software for websites and blogs. It caters to different online communities due to its high rate of connectivity. Everyone can create a customizable live chat box feature in 1 minute or less. Users have the ability to customize the size, color, and fonts of the chat product. The ability to chat via social media accounts such as Facebook and Twitter enable Chatwing to offer a personal and unique real-time experience to all sites. Chatwing is 100% free and very easy to use.