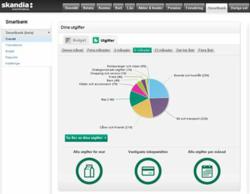 Meniga's PFM reaches millions of online banking users across several European markets as
Smartbank represents Meniga's 5th PFM implementation with a retail bank to date.
(PRWEB) May 04, 2012
"The first online banks in the mid 90's represented a paradigm shift in the relationship of retail banks and their customers. We believe that the Smartbank, which provides our customers with an automatic analysis of their household's finances, is the next big thing in what customers will come to expect of their bank," says Øyvind Thomassen, CEO of Skandiabanken.
Extensive studies show high customer demand for Smartbank in Sweden.
Skandia's Smartbank has been designed to meet a number of customer needs, which Skandia has identified in various studies. A recent, extensive study reveals that every other Swede has a guilty conscience about not having a better overview of his or her personal finances. It also shows that seven out of ten Swedes want to save more and that the main reason for not doing so is poor spending oversight rather than conscious choice.
"The problem is that traditional online banks do not answer the key questions, such as what you actually spend your money on or how much you can afford. But nobody wants to spend precious time on complicated budgets or scrutinizing account statement. This is where Smartbank comes in and provides simple answers to questions such as how much you spend on running your car, how much on food or whatever else you spend your money on," says David Blocho, head of Skandia's Smartbank.
"Meniga is proud to be part of Smartbank and is excited about its future development. Scandinavia is arguably home to the world's most sophisticated online banks and as the region's leading Internet-only bank, Skandia really understands where online banking needs to go to meet and exceed customer expectations. Meniga's mission is to help retail banks dramatically improve their online banking experience through smart, engaging and user-centric PFM Solutions and Skandia is the ideal partner in crime to create the online bank of the future," says Georg Ludviksson, CEO and Co-Founder of Meniga.
Six weeks ago, Skandia also launched Meniga's PFM Solution as part of its online bank in Norway and since then over 20% of its online banking users have started using it with an average of 2.5 visits per user in this short period. Meniga is also working on implementation projects with retail banks in several other European markets, including Germany, Finland and Russia, meaning that the Meniga PFM Solution will reach several million online banking users across Europe before the end of the year.