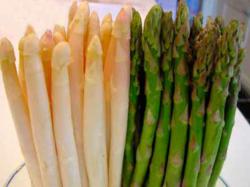 Asparagus @ Olericulture.org
Mannheim, Germany (PRWEB) May 04, 2012
The Vegetable Science Magazine's Olericultural Crops Category currently contains 21 vegetables. Each of these sections is subdivided into a general and a research category.
The spears of the temperate cultivars of "white" Asparagus (Asparagus officinalis, Asparagaceae or Liliaceae) are harvested belowground whereas those of the sub-/tropical "green asparagus" are cut aboveground. During belowground etiolation white Asparagus is deprived of light during its whole cultivation period. This "white Asparagus" is the preferred type of Asparagus in Europe. Since green asparagus is allowed to extend its stems beyond the soil surface, these stems develop chlorophyll and, thus, become green.
While asparagus is a low-calorie source of folate and potassium, its stalks are high in antioxidants, potassium and folate. Folate is known to reduce synthesis of homocysteine, a substance promoting heart disease. Foliate also protects against neural tube defects in babies, and against Alzheimer's Disease.
The general Asparagus section provides information about the aspects of production of vegetables including cultivation, pests and diseases, harvest, postharvest, storage and marketing. The "Asparagus Production Management and Marketing Bulletin" published by Ohio State University Extension is the most popular resource in the general section for Asparagus.
The Asparagus research section contain scientific information and links to peer-reviewed papers, journal articles, theses, books, abstracts, and other scholarly literature on the individual vegetables. The page on "Poisonous Plants: Asparagus officinalis" published by the North Carolina Cooperative Extension Service of the North Carolina State University is currently the most popular page in the Research category of Asparagus.
Olericulture.org was launched in 1996 and has emerged as a comprehensive aggregator of websites and science references in the applied life science olericulture. The site is now under new management and has just been republished.
Users who wish to submit their own or their company's website for inclusion in Olericulture.org are welcome to submit their listing through the site. Furthermore, the site maintains a number of RSS feeds which enables users to subscribe to their most favorite topics within the site. For better public exposure Olericulture.org also maintains and continuously updates the Twitter account @Olericulture.