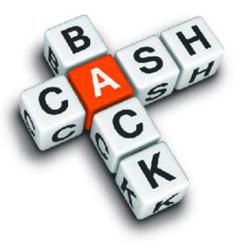 London, UK (PRWEB UK) 3 May 2012
'encash', the first social lending and borrowing website to lend to consumers and businesses in the UK has announced a new, exciting cashback offer of 1% for its lenders. This offer comes after the recent launch of 'encash' on April 4, 2012. Get ready for an exciting ride into the world of higher returns on lending!
How does it work?
When a lender transfers £200 or more via his debit card into 'my encash' system accounts for the purpose of consumer or business lending, he will receive 1% cashback into 'my encash' system account, giving an instant gain of 1% on his funds! In this way, at the end of each day, encash will add the 1% cashback to the qualifying lenders' accounts for every debit card based transfer of £200 or more!
"Lending now to consumers as well as businesses, lenders can enjoy high double-digit returns on their lending. Additionally, they can now get immediate 1% cashback on lending from 1st May bringing long-awaited summer sunshine!" said Dr. Chandra Patni, Director at 'encash'.
Double Benefits in Single Lending!
'encash' is a hot investment proposition as it offers potentially far higher returns than the traditional investment vehicles such as banks with minuscule interest or the stock market. There is a wide range of markets (A*- E).
Therefore, lenders can control their investments across various markets to get high, assured and steady returns. 'encash' also caps each bid to a fraction of the loan amount. Thus, it spreads lending across a large portfolio of consumer and business borrowers with different grades, leading to a significant reduction in the lending risk.
Lower APRs!
'encash' provides an ideal solution for lending and borrowing options prevalent in the markets today. 'encash' has introduced new policies emphasizing lower APRs. Click here to watch the video and understand how Dr. Chandra Patni, Director at encash addresses your queries and provides supporting information on the subject.
Contact details:
UK Headquarters: Checknet House, 153 East Barnet Road, Barnet, EN4 8QZ, UK
UK/Europe phone: +44 - 203 - 006 - 3790
Canada Office: 116 Spadina Avenue, Suite 201, Toronto, Ontario, M5V 2K6, Canada
Canada/USA Phone: 1 855-YES-PAY- 1
PR Contact: Nitasha Jain, Marketing Manager, ext. 402, nitasha(dot)jain(at)yes-secure(dot)com
marketing(at)yes-secure(dot)com