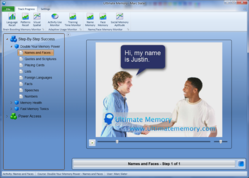 The results from the preliminary rounds of the study prove exactly what we were expecting
New York City, NY (PRWEB) May 04, 2012
Having developed computer software which is proven to improve memory, Ultimate Memory™ keeps its ears firmly to the ground in the search of related research. Following the commencement of a new study at the infamous Mayo Clinic, the team behind Ultimate Memory™ today announces their full support.
The research is being carried out by Yonas Geda, a physician scientist with Mayo Clinic in Arizona and a member of the American Academy of Neurology. Geda is currently studying 926 people between the ages of 70 and 93.
The in-depth study has already revealed some stark results, including the revelation that a combination of moderate exercise, coupled with daily computer-based stimulating activities, all contribute to decreasing the chances of memory loss beyond the age of 70.
"The results from the preliminary rounds of the study prove exactly what we were expecting" says Marc Slater, Managing Director of the company behind the Ultimate Memory™ software.
He continues, "We have always encouraged people of all ages to spend a few minutes each day indulging in stimulating activities on a computer. We are delighted to now see official studies backing up this very powerful way to improve memory."
Mayo Clinic is particularly interested in exploring incidents of Mild Cognitive Impairment (MCI).
Those who exercised and used a computer on a daily basis only had an 18.3% chance of developing MCI, compared with 37.6% who used a computer but did not factor light exercise into their daily routine.
"We're not a team of scientists, but the results seem to show that the experts advise coupling computer usage with light physical activity. This makes perfect sense to us. After all, the brain is just another organ and you really do require a healthy body to maintain a healthy mind" adds Slater.
As both this study and similar research projects continue, Ultimate Memory™ awaits any results with bated breath.
The recent study from Mayo Clinic was published in the May 2012 issue of Mayo Clinic Proceedings.
About Ultimate Memory™
Ultimate Memory™ is the market's leading memory improvement software package.
Scientifically proven to improve memory with as little as ten minute's user per day, Ultimate Memory™ is also backed by an iron-clad guarantee.
Containing many innovative strategies, tutorials, tips and exercises, users benefit from a myriad of varied ways to learn.