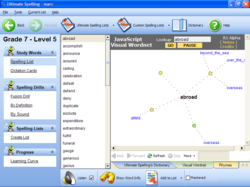 Just a few minutes each day really does work wonders
New York City, NY (PRWEB) May 05, 2012
Ultimate Spelling™ is widely regarded as a global leader in the spelling-improvement software sector. With this accolade the team is naturally interested in discovering those who have taken their spelling ability the extra mile. However, one nine year old Polish girl living in Wales has caught their attention so much that they are today offering her their official congratulations.
Agnieszka Runa-Ann Kolaczynska is just nine years old and, originally from Poland, now resides in the small Welsh village of Llidiartywaun. Agnieszka recently returned to Wales after winning a national championship title in the World Education Games Spelling championship.
As Marc Slater, Managing Director of the company behind Ultimate Spelling™ explains, the young champion obviously gets enough practice just by spelling her own name.
"I can count twenty six letters in her full name – the same amount of letters in the English language" he says.
Continuing, "Coupled with the fact that she comes from a village which is virtually impossible to spell, let alone pronounce, it's obvious she is set for a bright future as a spelling superstar."
While speaking with the media, Agnieszka puts her success down to her requirement to spell lots of complicated Polish words, along with many of the similarly unpronounceable villages in her current home country.
In fact, in a news feature with the UK's Daily Mail newspaper, Agnieszka said that "If you can spell my name you can spell just about anything. After learning to spell Polish names and Welsh places, English is a doddle."
Slater believes that this a perfect case-in-point that practice really does make things perfect.
"Agnieszka has only managed to get to where she is by sheer practice. It's just like the routine our spelling improvement software, Ultimate Spelling, creates. Just a few minutes each day really does work wonders" he concludes.
For more information, please visit: http://www.ultimatespelling.com
******
About Ultimate Spelling™.
Ultimate Spelling provides a modern and easy to use spelling software that has been designed with one goal in mind – making children WANT to learn.
It is a fast and easy way to master even the most complicated spelling, without the need to write long lists or complete boring tests.
In fact, Ultimate Spelling provides more than just spelling help. It is a complete educational resource that boosts all level of a child's literacy.
Containing a personal computer tutor, Ultimate Spelling is the most realistic step-by-step guide to flawless spelling ability.