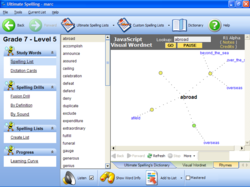 We are inviting families to pull up a chair, turn off their cellphones and have fun while making a real difference to their spelling abilities
New York City, NY (PRWEB) May 08, 2012
The traditional weekly day of rest could soon become the day of fiercely friendly competition, as Ultimate Spelling™ encourages families up and down the United States to join their 'Spelling Sunday' campaign.
The move hopes to encourage families to devote a few hours each week to indulging in competitive spelling games with a view to improve skills.
Marc Slater, Managing Director of the company behind Ultimate Spelling™, explains a bit more about what's in store:
"We are inviting families to pull up a chair, turn off their cellphones and have fun while making a real difference to their spelling abilities" Slater says.
He continues, "In particular, we are hoping that Spelling Sundays will focus particularly on improving spelling ability among the children in each household."
Slater and his team offer up three games which could make even the calmest of family's keen-spirited spellers:
Spell Everything! – Have the entire family hold a conversation by spelling each word, not speaking it. Each time someone breaks the pattern, they are out. Continue until one family member wins.
Eye Spy – This timeless classic is actually an educational goldmine. It's great for helping kids focus on which common household items are associated with each letter of the alphabet.
End-Letter Geeks – Someone spells a word, and the next player has to spell a related word that starts with the last letter of the previous word.
As Slater explains, while the key is to make things educational and productive, Spelling Sundays can't be effective without a bit of fun.
"It should certainly be very different to school. Families should crack open some snacks, make it light hearted and even consider inviting over friends or other families with small children to make it a bit of a festivity" he adds.
For more information on the Ultimate Spelling™ platform, please visit:
http://www.ultimatespelling.com
******
About Ultimate Spelling™.
Ultimate Spelling provides a modern and easy to use spelling software that has been designed with one goal in mind – making children WANT to learn.
It is a fast and easy way to master even the most complicated spelling, without the need to write long lists or complete boring tests.
In fact, Ultimate Spelling provides more than just spelling help. It is a complete educational resource that boosts all level of a child's literacy.
Containing a personal computer tutor, Ultimate Spelling is the most realistic step-by-step guide to flawless spelling ability.