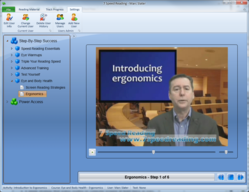 Many studies are concluding that those who read enjoy better mental health and better prospects in life
New York City, NY (PRWEB) May 10, 2012
Though technology has moved on leaps and bounds and cars have gotten faster yet more fuel efficient, the process of getting a child to bed seems to have skipped the advancements of the modern world. However, the team behind 7 Speed Reading™ today announce that this age-old tradition could hold the key to a happiness and success.
"The reasons are two fold," says Marc Slater, Managing Director of the company behind the 7 Speed Reading™ reading improvement software.
Continuing, "The child gets to enjoy some quality one-on-one time with their parent, as well as indulge in the world of books – something which continues to be a vital contributing factor to good happiness and great prospects."
Slater makes the claim following his company's rise as market leaders in the self-improvement software sector. Their 7 Speed Reading™ product is highly regarded as being responsible for the continued interest in childhood reading, something Slater maintains is extremely important.
"Many studies are concluding that those who read enjoy better mental health and better prospects in life. So, with this in mind, we encourage all parents not to skip the bedtime story, and to instead make it a routine part of each child's day" Slater adds.
As many will remember, the bedtime story is locked in history as a valuable and effective strategy for getting any child to sleep. Slater believes that it's also a great opportunity for a child to learn, without being aware of it.
"It really does have so many benefits. It calms children down, allows them to throw their imaginations into over-drove and is also a bit like school for the brain – without the protests!" he concludes.
For more information on the reading-improvement software developed by Slater and his team, please visit: http://www.7speedreading.com
About 7 Speed Reading™
7 Speed Reading is the only modern speed reading software that uses the latest technology to produce superior results.
The software provides its users with a new way to master speed reading that guarantees three times the reading speed along with improved memory and comprehension.
The software is poised as the most comprehensive speed reading system anywhere. It contains seven learning strategies, fifteen software activities, video training, advanced tracking capabilities and many more exciting features.