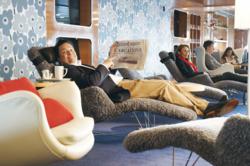 Belfast, Northern Ireland (PRWEB UK) 5 May 2012
According to leading ferry company Stena Line, if 2011 was all about stay-cation then 2012 is going to be about the Car-cation. Funny man and award-winning travel writer Dom Joly has been recruited as the face of the Car-cation campaign on TV and press across the UK and Ireland.
The Car-cation trend centres on using the family car as one of the main focal points of the holiday and the freedom it provides to bring unlimited luggage. Recent research has shown that the average woman takes at least eight pairs of shoes on holiday, not to mention packs twice as much needed for the trip. That doesn't leave a lot of room for the rest of the family but luckily when travelling with Stena Line customers can add a roof rack for all the little extras at no additional cost.
Dom said: "I love travelling and I love my car… put the two together and it doesn't get any better. It's called a Car-cation. The Stena Line ships are fantastic; first class service and stylish lounges with as much leg room as you want. There are cabins to relax in and even a spa. Best of all, when I'm away I can still keep in touch with free WiFi and I can even use my phone."
Stena Line's Head of Marketing Orla Noonan believes the Car-cation campaign will resonate with the public who are increasingly looking to reduce stress levels, especially around holidays. She said: "Ferry travel is one of the most relaxing ways to holiday. It's such a unique, enjoyable and stress free travel experience. Our aim is to encourage people to reappraise the fantastic possibilities that travelling by ferry with Stena Line has to offer. 
"Taking your own car on holiday gives you the freedom to pack more in and go where you want, when you want. What's more, as Dom demonstrates in our new campaign, a Car-cation with Stena Line allows holidaymakers to enjoy a VIP travel experience," concluded Orla.
To make a booking, customers can log onto http://www.stenaline.co.uk, call 08447 70 70 70 or visit their local travel office or agent.

About Stena Line:
As the market leader between Britain and Ireland, Stena Line offers the widest choice of routes on the Irish Sea, with ferries to Ireland operating on Cairnryan to Belfast, Holyhead to Dublin Port, Fishguard to Rosslare, Holyhead to Dun Laoghaire and Liverpool to Belfast routes. The company carries over two million passengers on its Irish Sea ferry routes each year, more than its rival ferry operators combined.
More than 500,000 people travel with Stena Line to Holland every year with twice daily return crossings on its Harwich to Hook of Holland route.
PR Contact:
Diane Poole OBE
Head of PR & Communications UK & Ireland
Stena Line
9 Westbank Road
Units 1-4 Victoria Business Park
Belfast
BT3 9JL
00 44 2890 786150
http://www.stenaline.co.uk/ferry/