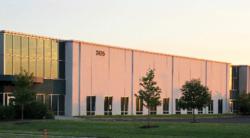 The Spiegel property meets our high image requirements, and we are glad to continue our six year relationship with Meritex in Rickenbacker--John Kosik, Chief Financial Officer for Nifco America
Columbus, OH (PRWEB) May 03, 2012
Meritex announced today an exciting new 135,000 square foot expansion in Columbus, Ohio with its existing client, Nifco America, a world leader in manufacturing of automotive parts. Nifco will distribute its products to over 400 clients including all of the major automotive OEMs from the Meritex 2435 Spiegel Drive property.
"Nifco is excited to be expanding its manufacturing and distribution services in Columbus. We conducted a multi-location search throughout the southwest industrial market, and we feel that the Meritex property is the ideal solution for our expansion. The property meets our high image requirements, and we are glad to continue our six year relationship with Meritex in Rickenbacker," commented John Kosik, Chief Financial Officer for Nifco America. "During the past year, we have experienced explosive growth in our business, including parts needed for new Honda models; this warranted an immediate need for significantly more warehouse space."
Meritex owns and manages 1.7 million square feet serving 65 customers in Columbus, Groveport, and Gahanna. "We see the significant growth of our customer, Nifco America, as a sign of overall market recovery," said Jill Evans, Portfolio Manager for Meritex. "Meritex is thrilled to continue to partner with Nifco America at our Spiegel Drive property. With our flexible leasing solutions, superior customer relations, and cost effective space options throughout Columbus, we continue to develop and expand our existing client base there. With other recent leasing activity, we are confident that Meritex will play a significant part in the positive absorption in the Columbus industrial market in 2012."
Meritex was represented by Curt Berlin and Matt Osowski of NAI Ohio Equities. Nifco America was represented by Joel Yakovac of Colliers International.
Company Information: Meritex is a private real estate investment and management company that acquires, develops, owns and operates commercial real estate, primarily institutional grade, multi-tenant industrial properties. The Company owns, leases, and manages 9.0 million square feet of commercial real estate in 7 markets in the U.S. Its portfolio consists of multi-tenant industrial, office and subsurface industrial properties. The Company's properties are located in Atlanta, Columbus, Denver, Houston, Indianapolis, Kansas City, and Minneapolis-St. Paul. Additional information can be found at the Company's website http://www.meritex.com.