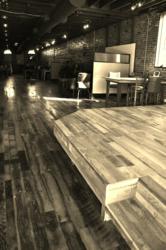 The reclaimed wood used on The Horton Group floors were made smooth enough for a professional setting, but also crafted to retain their original look.
Nashville, Tenn. (PRWEB) May 05, 2012
As part of the renovations to their new downtown location, Horton Group has replaced the office floors with reclaimed oak from a pre-Civil War era tobacco barn. The new floors constructed from wood that is over a century old provides the office interior with a unique mix of modern creativity and antebellum history.
The materials for the hardwood floors were provided by Longwood Antique Woods out of Lexington, Ky. Headed by George Gatewood, Longwood works to provide customers with green options that also embrace American architectural history. "We recycle old barns and buildings slated for demolition. In the next five to ten years some people might not have even known these buildings existed so we do our best to preserve that history," stated Gatewood. "The reclaimed wood used on The Horton Group floors were made smooth enough for a professional setting, but also crafted to retain their original look."
"It is a lot of fun being able to tell people they are standing on a piece of history when they visit our office," said Pat McComb Horton leasing manager. "Longwood provided a creative solution that also allowed us to be environmentally responsible."
The oak used for the floors was taken from the siding of the historic Handy Barn, located in Cynthiana, Ky. The English-style barn was among the last of its kind and holds a long and intriguing history. The Handy Farm was established in 1816 by Col. William Brown and later purchased by Dr. Joel C. Frazer in 1848. Experts have determined that the Handy Barn was built sometime in the 1830's and was most likely used for tobacco production. During the American Civil War a majority of the Handy farm land, including the barn, was occupied by Union forces. The army used the barn as a storage facility; it also acted as temporary housing for Union soldiers.
After Dr. Frazer's death in 1863 the farm was passed down to his grandson who sold the property to WIlliam T. Handy twenty years later. During this time Handy converted the barn into part of his horse breeding trade. Over the next decades the property traded hands a number of times. In 2002 the farm was purchased by the City of Cynthiana and Harrison County governments. The farm is currently listed on the National Register of Historic Places.
Old nail holes and saw cuts can still be seen in the treated oak, a lasting reminder of the floors historic origins. "We were looking for some reclaimed hardwood; we wanted something with character and a story to tell that would add to the creative atmosphere of our work space," stated Rick Hyatt Horton Group property manager. "We were happy to find Longwood Antique Woods had a collection that matched our needs perfectly."
Longwood Antique Woods has been working to reclaim and recycle old wood for eighteen years. Materials come from historic barns, cabins and warehouses located all throughout the state of Kentucky. The Longwood process provides a green product that helps conserve nature and at the same time conserve history.
For more information about Longwood Antique Woods, their products or past projects contact them at, 859-233-2268. Their showroom located in Lexington, Ky. is open Monday through Friday, 8 a.m. - 4 p.m.