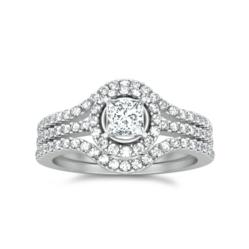 Tanzanite Rings are very popular with women. Tanzanite rings are also used as engagement rings as they are extremely beautiful and affordable
Cockeysville, MD (PRWEB) May 04, 2012
Tanzanite was first discovered only a few decades ago, around 1967. In fact even today, Tanzanite is still found in only one country in the world, Tanzania. Originally promoted as a rare gemstone, Tanzanite has steadily grown in popularity especially with women. The deep blue color of Tanzanite is perfect for making rings, and Tanzanite rings are very popular as both engagement rings and as fashion rings. Despite being a very rare gemstone, Tanzanite rings are surprisingly affordable. This is the main feature of the new Tanzanite collection on JewelOcean.com, where customers would find beautiful rings made with Tanzanite and diamonds.
While the gemstone was discovered only a few decades ago, it is already associated with countless myths and legends. One very popular such belief is that wearing Tanzanite rings bring visions to the users. However as JewelOcean manager, Mathew Bruno says, "While we can't guarantee any visions that the Tanzanite rings would bring to the user, it would definitely bring a lot of admiration from other people who see these rings". The color of the gemstone makes it a perfect match for many different occasions. Customers would find a vast selection of different style of such rings on JewelOcean. There is an ample selection of Tanzanite engagement rings, most of which are also set with diamonds, which seem to match the color of the gemstone perfectly. These engagement rings are set on either white gold or yellow gold. Another major part of collection is the Tanzanite cocktail rings or fashion rings which can be worn at almost any event. These Tanzanite rings are more affordable as many of them are set on silver. Many customers use these rings as Tanzanite promise rings also, as they tend to be very inexpensive.
Since the collection is newly launched on JewelOcean, customers would also be pleased to know that many of rings are on special sale for limited time. These Tanzanite rings are available in limited quantities and are available on first come basis only.
JewelOcean is a leading online diamond rings retailer, which emphasis on bridal sets and wedding sets. Most of the wedding ring sets can be fully customized by the user with their choice of center gemstone, and now many of them can also be customized with Tanzanite. With extremely high positive customer ratings and reviews, JewelOcean is becoming a leading destination for customers to purchase diamond jewelry online. For more information about the company and to browse the collection, please visit the company website.