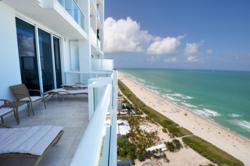 It's like a mini-mansion condo on the 32nd floor
Miami Beach, FL (PRWEB) May 03, 2012
Zilbert International Realty, a Miami-based luxury real estate brokerage company, announced today that it has started general sales and marketing of Unit 3202 at the Continuum North Tower Condominium in Miami Beach, located at 50 South Pointe Drive. Zilbert has the worldwide exclusive rights to market the property.
Priced at $13.75M, the condo apartment offers five bedrooms, each with unobstructed views through 10-foot-high windows. It occupies one-half of the thirty-second floor of Continuum's North Tower, and is served by four private elevators that open into one of two elevator foyers. Its flow-through design is rarely seen at The Continuum.
The buyers of this condo will also have exclusive and private rights to a poolside villa, a one-of-a-kind, standalone structure that appears to float in its own lagoon. The villa is a two-level, loft-style cabana that features a sleeping area, full bathroom and separate kitchen.
The combined condo and poolside villa offer a total living area of just-under 6000 square feet.
The condo's full details and photos may be viewed on Zilbert's website at http://www.ZILBERT.com/3202
The Continuum is a complex of two luxury condo towers that sit on approximately twelve acres of oceanfront land in South Beach (Miami Beach) at the most southernmost point. It is a gated community that offers spacious grounds, two massive pool areas, tennis courts, a world-class health club and full restaurant.
ABOUT ZILBERT INTERNATIONAL REALTY
Zilbert International Realty is full-service, premium real estate brokerage that works with clients from around the world, helping them to buy and sell properties. It specializes in South Florida luxury estates, condos, homes and vacation properties from the greater Miami area up to the Palm Beaches. Zilbert currently holds the Miami Beach condo sales record, selling a penthouse at Miami Beach's Setai Resort and Residences for $21.5M in December 2011. Through its alliance with the Who's Who of Luxury Real Estate and LuxuryRealEstate.com, Zilbert's global reach extends to over 70,000 real estate professionals in over 85 countries. Collectively, Zilbert and its network partners sell over $190B annually.
The company's website, http://www.Zilbert.com is a popular tool for its customers, with over 50,000 visitors each month, and over 10,000 properties that are updated continuously.
Zilbert's sales associates are an elite team of real estate professionals, recruited through a specialized, invitation-only selection process. The company is also a leader in the use of technology and social media to help it engage with its clients. Its core business philosophy is to build personalized, one-on-one relationships with buyers and sellers of real estate, and to partner with them through every stage of a real estate transaction. Its People-and-Technology approach to the real estate market enables it to provide an exceptionally-high level of customer service and customer satisfaction.
Zilbert International Realty was founded in 2003 by Montreal-born Mark Zilbert, a technology innovator who realized almost a decade ago that to prosper in real estate would require a strong adoption of technology. Having worked for such customer-focused technology companies such as Siebel Systems (now part of Oracle Corp.), Mr. Zilbert embraced technology and real estate, and developed tools to help buyers and sellers of real estate understand and engage in real estate transactions. Mr. Zilbert has appeared on numerous national news programs including ABC's 20/20, CNBC, CBS' Morning Show, ABC's Nightline. He has also been featured in the Wall Street Journal.
The firm offers a number of ways for its customers to interact with it. Its traditional business operation offers buyers and sellers of real estate access to sales professionals via its offices, by telephone, on the web, and in person. Its new Zilbert Realty Store is a retail-like shopping experience where buyers can interact with professional sales associates in a casual setting.