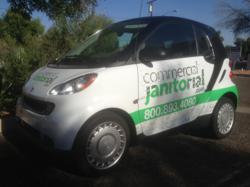 Phoenix, Arizona (PRWEB) May 04, 2012
If you take a deep breath and it seems that the air is a little bit cleaner it may be because of the effort of Phoenix office cleaning company Commercial Janitorial. The company has long been a leading green cleaning company earning Green Seal certification for its commitment to environmentally friendly cleaning practices. However the company is literally rolling out a new tool in its green cleaning arsenal, low emission Smart Cars to shuttle employees to jobsites. The new vehicles have been deployed to customer sites in the East Valley including Tempe, Scottsdale and Mesa. The company plans to use the vehicles in other Valley cities later in the year to perform office cleaning in Glendale, Peoria, Chandler and Gilbert.
"We decided to take a top to bottom look at our company's impact on the environment, not only inside customer locations but outside it as well," company President Ryan Stark said. "What we discovered is that we could lower our impact on the environment by changing how we traveled to locations." The company analyzed each trip to locations and discovered that many of their service calls required single employees to travel to locations to perform inspections or perform routine service. "Many times one lone employee was traveling to a location in a work van to perform work that only required minimal equipment." Thus a policy of including smaller micro vehicles produced by Daimler AG called Smart Cars was developed.
Smart Cars are just one additional tool the company uses to differentiate itself one of the nations premier green cleaning companies. The company uses a variety of green cleaning techniques and products that have replaced traditional cleaning procedures. The result is reducing and eliminating harmful byproducts of cleaning such as Volatile organic compounds (VOC) and fragrances which have been shown to negatively impact human health. The side benefit to adhering to a green cleaning processes is that buildings and the people who work in them end up being healthier and more productive, and since green cleaning in Phoenix does not cost more than non-green cleaning the, the return on investment to businesses by switching ends up being higher.
"Why other Phoenix office cleaning companies don't use green cleaning is sometimes a mystery to us. Sometimes it has to do with education and organizations being hesitant to adjust to new information. But the bottom line is the way we clean is just as effective as other techniques but the end result is better for people and the environment according to FDA and OSHA," Stark concluded.