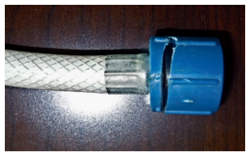 Unsuspecting homeowners who have put, and continue to put, their trust in this defective plumbing product deserve to know that this problem exists and that it is preventable.
-Patrick Howard, Attorney with Saltz Mongeluzzi Barrett & Bendesky
Philadelphia, PA (PRWEB) May 03, 2012
The Complaint (Case Number 4:12-cv-01172), which seeks class action status, requests relief for all consumers who have suffered damage or who have the defective toilet water line connectors in their homes. A toilet water connector line connects a property's water shut off valve to the toilet. When the defective connector cracks and fails, water flows freely throughout a home. The complaint seeks to redress the tens of millions in property damage allegedly caused by the defective toilet connector as well as replacement of the faulty connectors that will inevitably fail.
The allegedly defective toilet water line connector, installed in hundreds of thousands of homes, is produced by a subsidiary of Watts Water Technologies Inc. and sold through plumbing suppliers and home centers nationwide. It's allegedly flawed design poses a silent threat of premature failure resulting in catastrophic, costly water damage, according to the Complaint filed in the U.S. District Court for the Northern District of California. In addition, it is alleged that Watts knew of the connector's high failure risk and secretly modified its design, yet failed to warn buyers or recall the Chinese-made product from the U.S. market.
"The significant and documented water damage caused last year to the homes of lead plaintiffs Jason Trabakoolas and Sheila Stetson is an indication of how this concealed defect can cause devastation to a home," said Patrick Howard, a member of SMBB's class action practice group. He said anyone in the U.S., including the greater Philadelphia area that has a Watts connector is invited to learn more about the litigation, and discuss options available to them by contacting him at 215-496-8282 (phoward(at)smbb(dot)com).
Howard noted that the complaint asserts that the manufacturer, based in North Andover, Massachusetts, resorted to what amounts to a cover-up when it introduced a new, improved and more expensive model while concealing the high failure rate of the inferior product that forms the basis of the class action. "It is time that Watts and the other defendants acknowledged this problem," commented Howard. "Unsuspecting homeowners who have put, and continue to put, their trust in this defective plumbing product deserve to know that this problem exists and that it is preventable."
Contacts:
Patrick Howard
SMBB / phoward(at)smbb(dot)com
Josh Peskin
josh(at)idadvisors(dot)com (for counsel)
267.218.5530