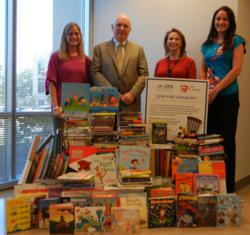 We have generous members that consistently make our donation drives a success. ~Joseph Melbourne, President & CEO
Lake Mary, FL (PRWEB) May 04, 2012
CFE Federal Credit Union members and employees recently responded to the simple needs of local students by collecting new socks, undergarments and books for donation to several school district organizations. These organizations, Kids Closet, Families in Transition program and A Gift for Teaching, provide free clothing and basic school items to eligible children in Central Florida. They constantly need and appreciate support of businesses in the community.
To help stock the shelves at the Kids Closet and Families in Transition store, CFE donated a total of 1,170 clothing items, consisting of 561 pairs of socks and 609 undergarment pieces in several size options. Additional funds were collected during a corporate-wide Jeans Day, whereby employees who contributed $5 to support the drive were allowed to wear jeans to work.
In support of AGFT's Annual Book Drive, CFE opened all 19 of their branches as designated drop off locations. Plus, CFE members and employees stepped up to the plate and donated close to 1,000 new and gently used children's books along with $300, enabling AGFT to buy even more books at a discounted rate for kids.
CFE Federal Credit Union was founded in 1937 and currently serves approximately 121,000 members. As of March 31, 2012, CFE had total assets of over $1.351 billion and deposits of over $1,131 million. Membership eligibility includes anyone who lives, works, attends school, volunteers, or worships in the Orange, Osceola, Lake or Seminole Counties of Florida. Businesses and other legal entities may join as well. The credit union serves its members at 19 full service branches, 4 high school branches, 41 ATM locations and through 24-hour Internet access. CFE is recognized as a Top 20 in The Orlando Sentinel's Top 100 Companies for Working Families for 2011.
# # #