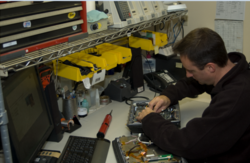 These services are delivered to the reseller, through the reseller to the end user, or for the reseller. This keeps the reseller in control of the engagement at all times
Elliongton, CT (PRWEB) May 08, 2012
Data Capture Solutions (DCS), a leading provider of mobility products, services, and solutions and Yellowfin Distribution, the sole North American distributor of Pidion mobility products, announced today that they has signed a strategic agreement allowing DCS to become Yellowfin's services and solutions partner.
"The ability for a distributor to provide services that augment and complement a reseller's service portfolio is critical in today's competitive market," said John Gibson, VP and GM of Yellowfin, "but at the same time, resellers sometimes get concerned that the distributor might compete with them for the end-user's services business. Our partnership with DCS should go a long way towards easing those concerns."
According to Mark Piquette, President, DCS Services and Solutions, the partnership strikes the right balance between being responsive to reseller needs and not interfering with the reseller's service business. "Over the past year DCS has invested heavily recalibrating the organization to be more value add and market competitive than commodity focused. We have expanding our capability, including our state-of-the-art Mobility Command Center, not only to include new technologies but now have new solutions to augment and complement our channel offerings and enhance our account control," Piquette said. "This partnership with Yellowfin will allow their resellers to leverage our investments when they need to."
Frank Borghese, VP of Sales at Yellowfin said "This really is a win-win for everyone. Resellers can know that the investments they have made in their service portfolios are safe when they work with Yellowfin, but at the same time, they can count on us to augment their capabilities when the competitive situation demands it." Borghese added that "DCS has the flexibility to deliver their services to, though, or for the reseller so it is the reseller who is in control of how it all works."
About Yellowfin
Yellowfin is a new company with its headquarters in Ellington, CT. Founded by mobility experts, each with more than 25 years of industry experience; Yellowfin wants to help mobility resellers enjoy higher product margins while providing them with the rugged, high performance, and innovative solutions their customers demand. With an augment and complement service strategy, Yellowfin can also help resellers fill out their own service and solutions portfolios making them more competitive in the market and more valuable to their customers
About Data Capture Solutions
Data Capture Solutions(DCS) is a $30 million total solutions supplier of bar code scanning products, systems and related equipment to the following markets: Food, Retail Operations, Warehousing, Distribution, Transportation and Logistics, Wireless Field Mobile and Healthcare. Incorporated in 1992 as a Value Added Reseller, DCS provides a complete range of products and services to meet our customers' unique and changing needs.