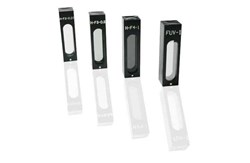 NSG provides exclusive products that not only match NIST-930e standards but often exceeds them.
Farmingdale, NY (PRWEB) May 03, 2012
Despite the simplicity of the concept of photometry for measuring light intensity, it is a very complicated and delicate process. In addition, photometers are often expensive and may be difficult to use. These devices are often found in chemistry, biology and industrial laboratories and are utilized for data evaluation and study.
One of the major concerns for scientists is the need to have accurate photometer calibration standards. Calibration standards are needed for the quality assurance and accuracy of readings. If calibration standards are not precise then there is a high potential for inaccurate results and analysis. In effect, inexact laboratory results wastes valuable time and resources.
Optimum photometer calibration standards are obtained by using filters that are recognized by the National Institute of Standards & Technology (NIST), USA. Equally, it is important that a calibration standard is not only NIST traceable but is NIST compatible. In fact, NIST traceable may not be adequate for the correct calibration of a photometer. Likewise, NIST traceable filters do not guarantee any data for the tolerances of neutral density (ND) filters which includes temperature, humidity environments, incident light-angle sensitivity, wavelengths deviation and optical density variation. On the contrary, ND filters that are NIST compatible are essential for the most accurate calibration.
Locating an optimum photometer calibration standard may be challenging for a laboratory but it is crucial for obtaining precise readings. Most photometer calibration standards are NIST traceable but not NIST compatible. A leading quartz manufacturer that specializes in calibration standards as well as the design and fabrication of the highest quality fire fused cuvettes, microfluidic chips and superior flow cells is NSG Precision Cells. At NSG, photometer calibration standards are NIST traceable and NIST compatible. Furthermore, NSG provides exclusive products that not only match NIST-930e standards but often exceeds them.
NSG Precision Cells is a leader in the cuvette industry and with over 50 years of experience, NSG provides the only spectrophotometer calibration standard that can calibrate in both the visible (Vis) range and ultraviolet (UV). Their exclusive FUV-0.5 calibration filter can be used for wavelengths between (200-700 nm) for both photometric accuracy and stray light. As well, NSG offers custom manufacturing of VIS, UV and infrared (IR) photometer calibration standards.
With innovative technology and knowledge, NSG Precision Cells is highly skilled in manufacturing and designing quartz products that are dependable and second to none. In fact, their photometer calibration standards are unsurpassed in the market. Some of the wide arrays of benefits include the following; never need to be replaced, exact calibration every time, NIST compatible and traceable, easy to clean and user friendly, long-lasting and scratch resilient.
Also NSG's photometer stds will work with all spectrophotometers that have a standard 12.5 x 12.5 mm cuvette holder. These standards meet or exceed NIST-930e standards and they never need recalibration.
One of NSG's most recent products is the wavelength calibration standards. It is utilized for photometric accuracy in UV wavelength range and wavelength calibration in UV and Vis wavelength ranges. The WAV-7 wavelength calibration standard has trace-tables for 2nm spectral bandwidths as well as other spectral bandwidths that can be custom made. Some of the numerous features of the WAV-7 include:

Thermally stable
Remarkably diffuse
Filter never degrades
Unwavering reflectance
Never needs to be recalibrated
NIST compatible and NIST traceable
Easy to clean and exceptionally durable
Can be custom made to fit a laboratories needs
Never needs replaced and has an extensive lifespan
NSG's unique photometer calibration standards are a revolutionary advancement in Nano technology. The state-of-the-art standards provide scientific laboratories the solution to quality samples and cost-effective results. In fact, NSG Precision Cells photometer calibration standards are the best in the silicon industry. Either meeting or exceeding NIST guidelines, the NSG photometer calibration standards are ideal for absolute precision and peak performance.