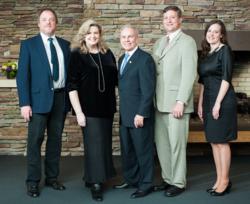 Vienna, VA. (PRWEB) May 03, 2012
Wolf Trap Foundation for the Performing Arts is proud to recognize five outstanding high school performing arts teachers, each of whom have received $2500 Grants as part of the organization's annual Wolf Trap Grants for High School Performing Arts Teachers, designed to stimulate curriculum and enrich classroom learning. These Grants honor the exceptional instruction and performance achievements of public high school teachers within music, dance, and theatre disciplines throughout Fairfax, Arlington, and Loudoun Counties in Virginia; Prince George's and Montgomery Counties in Maryland; and the District of Columbia. Wolf Trap has awarded 2011-2012 Grants to Charles Orifici of Clarksburg High School, Marilyn Gilligan of Briar Woods High School, Claire Rowan of James Madison High School, Michael A. Fitzhugh of Bladensburg High School and Chris Gillespie of Wakefield High School. Through these funds, each teacher has made a resounding impact on their students and their curriculum with the creation of new works and initiatives that range from a student written/composed/directed musical to a study of the historical music related to the Battle of Bladensburg.
"Wolf Trap is extremely excited and honored to award these five educators well-deserved Grants to help enrich their already strong performing arts curriculums," says Akua Kouyate, Wolf Trap's Senior Director, Education. "These important Grants are strategically tied to Wolf Trap's mission of strengthening performing arts curriculum within classrooms, and we know that each teacher's individual use of funds and vision for the future will have a strong ripple effect. As a result of the Grants, teachers expressed that they have expanded their own approaches in ways that deepen arts learning while providing substantive arts experiences for their students, not only for those who participated in projects this year, but also for students they will instruct in the future. "
MONTGOMERY COUNTY
Charles Orifici
Clarksburg High School
Inspired by their nomination to perform at the National Cherry Blossom Festival 100th Anniversary in Washington D.C., the Clarksburg High School Band commissioned an original instrumental piece that captures and celebrates Japanese musical styles and traditions. Composer Frank Mahoney, retired Director of Instrumental Music at Southern Delaware School of the Arts, led Clarksburg High School Band, Orchestra, and Music Theory students in a series of master classes focused on blending Japanese tone, structure, and instrumental technique within musical composition. The Clarksburg High School Band premiered the commissioned piece at the National Cherry Blossom Centennial Parade and at the school's annual spring concert.
LOUDOUN COUNTY
Marilyn Gilligan
Briar Woods High School
Elizabeth the Musical, an original production written, composed, and directed by Briar Woods High School student Greg Mooradian, served as the focus of a year-long study on the Elizabethan era for the school's Theatre Department. Master Seamstress Joy Heyer conducted master classes on Elizabethan costume design and construction; author, playwright and historian Meredith Bean McMath led workshops on producing and directing historic shows; Andrew Newman taught sword fighting; and Jordon David from Jordan Morris Photography led workshops on the photography and promotion of theatrical productions. Additionally, theatre students toured the Elizabethan Theatre at the Folger Shakespeare Library. Elizabeth the Musical premiered in the fall, and an encore Musical Review of Elizabeth will be presented this spring.
FAIRFAX COUNTY
Claire Rowan
James Madison High School
James Madison High School Choir students created an original a cappella piece based on their reflections of a performance at an Anti-Defamation League event. Through a series of teacher-led discussions on intolerance, hate and discrimination, students formed the text for their original piece before meeting with composer Don McCullough. McCullough, founder of the Virginia Symphony Chorus and Virginia Choral, demonstrated the process of transforming words into harmonic and rhythmic structures. Three additional Fairfax County Public High School choral ensembles will join the James Madison High School Choir in May to perform this original composition at the Vienna Presbyterian Church.
PRINCE GEORGE'S COUNTY
Michael A. Fitzhugh
Bladensburg High School
The Bladensburg High School Band launched a year-long study on the historical music related to the Battle of Bladensburg. Associate Director of University Bands at Howard University, Kelvin W. Washington, created an arrangement of Bladensburg High School's Alma Mater that is infused with elements of Tchaikovsky's 1812 Overture. All levels of the student band participated in master classes and workshops led by Washington, as well as participated in side-by-side rehearsals with the Howard University Band. The commissioned piece will be presented to the local community as part of a bicentennial commemoration of the Battle of Bladensburg in the spring.
ARLINGTON COUNTY
Chris Gillespie
Wakefield High School
In preparation for their spring musical Beauty and the Beast, Wakefield Theatre Arts students had an opportunity to work with Washington D.C. area theatre professionals throughout the school year. Students participated in a series of master classes led by multiple guest artists in lighting, sound, set design, and the construction of props and costumes. Additionally, choreographer Jane Franklin, founder of Jane Franklin Dance in Arlington, Virginia, worked with student dancers to guide the choreography of this large musical production.
About The Wolf Trap Foundation for the Performing Arts
The Wolf Trap Foundation for the Performing Arts, a 501(c)(3) nonprofit, founded by Catherine Filene Shouse (1896-1994), produces and presents a full range of performance and education programs in the Greater Washington area, as well as nationally and internationally. Wolf Trap features three performance venues, the outdoor Filene Center and Children's Theatre-in-the-Woods, both located at Wolf Trap National Park for the Performing Arts, and the Barns at Wolf Trap, located down the road from the park and adjacent to the Center for Education at Wolf Trap. In partnership with the National Park Service, The 7,028-seat Filene Center annually showcases an extensive list of diverse artists, ranging from pop, country, folk, and blues to classical music, dance, and theater, as well as multimedia presentations, from May through September. The Barns operates year round, and during the summer months is home to the Grammy-nominated Wolf Trap Opera Company, one of America's outstanding resident ensemble programs for young opera singers. Wolf Trap's education programs include the nationally acclaimed Wolf Trap Institute for Early Learning Through the Arts, Children's Theatre-in-the-Woods, a diverse array of arts education classes, scholarships, and a nationally recognized internship program that was included in Bloomberg BusinessWeek's 2009 List of "Best Places to Intern." As part of its ongoing commitment to protect and preserve the environment, Wolf Trap offers metro access and is a founding member of the Green Music Group. Terrence D. Jones is president and CEO of the Wolf Trap Foundation for the Performing Arts.