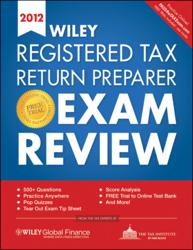 Hoboken, New Jersey (PRWEB) May 07, 2012
By December 31, 2013, all paid tax return professionals are required to pass a competency test to officially become registered tax return preparers. To help tax professionals prepare for the comprehensive test released by the IRS May 1, tax and accounting publisher John Wiley & Sons worked with The Tax Institute at H&R Block to create the WILEY REGISTERED TAX RETURN PREPARER EXAM REVIEW 2012. The study guide is written for tax professionals by tax professionals.
There were more than 4,500 tax code changes in the past decade, expanding the tax code to 70,320 pages. To help tackle tax code confusion, many taxpayers in the United States obtain assistance to prepare their individual income tax returns. In fact, paid preparers filed almost 60 percent of individual income tax returns in 2011.To protect consumers, the IRS is working to ensure all paid preparers adhere to professional standards and follow the law.
Announced in January 2010, sweeping IRS reforms will require all paid, signing preparers to register with the IRS. The majority of paid preparers (those who are not enrolled agents, attorneys or Certified Public Accountants) will be required to pass a competency exam and fulfill annual continuing education requirements. This adds up to more than 350,000 preparers who will be required to pass the competency exam by the end of 2013.
Divided into small, digestible sections, the WILEY REGISTERED TAX RETURN PREPARER EXAM REVIEW 2012 provides candidates with the information they need to know to pass the exam. Complete with extensive examples and a final exam review, the course provides candidates with a solid foundation on income taxes and the preparation of an accurate and complete income tax return. Along the way, it covers specific tax issues candidates need to be familiar with, including tax theory and law, conducting a thorough client interview, and offering tax advice and explanations to clients. Coverage includes:
•Strategies to approach unfamiliar areas, organize a study program,
and maximize preparation time;
•The individual tax knowledge needed to pass the competency test; and
•Test-taking tips as well as insight on how to approach exam questions.
ABOUT THE AUTHOR:
The Tax Institute at H&R Block is the company's independent research division, providing expert tax assistance and interpretation of tax law. The Tax Institute combines H&R Block's world-class training experience with the knowledge of the company's credentialed tax experts to create a unique exam review based on extensive resources from nearly 60 years in business, 550 million tax returns prepared, and more than 100,000 tax professionals trained each year. For more information, visit http://www.thetaxinstitute.com.
WILEY REGISTERED TAX RETURN PREPARER EXAM REVIEW 2012
Published by John Wiley & Sons, Inc.
Publication date: Available Now
$59.95; Paperback; 536 pages; ISBN: 978-0-470-90561-6