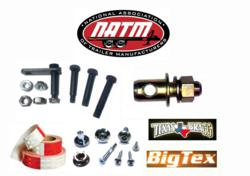 Dallas, TX (PRWEB) May 04, 2012
AFT Fasteners has joined the elite group of National Association of Trailer Manufacturers members who operate facilities in 45 states and the District of Columbia. These facilities collectively employ more than 210,000 Americans. AFT Fasteners joined the NATM recently and is already involved in ensuring that products meet or exceed those standards and federal regulations covering certification labels, tires & wheels, brakes, lighting, reflectors & conspicuity, underride protection, and cargo securement. In addition, NATM compliance requirements examines whether the trailer manufacturing process in place can meet industry accepted manufacturing standards and practices covering safety chains, couplers, electrical components, warning labels and consumer information.
These hardware and manufacturing parts required to meet and exceed the NATM's safety requirements are available at AFT Fasteners. AFT is specialized in providing Department of Transportation (DOT) reflective conspicuity tape and adhesive logos to meet state and federal requirements, as well as user safety devices such as gravel guard and anti-slip decking, flooring and surfaces. Safety requirements are often exceeded by offering trailer manufacturers services that enable them to concentrate on the manufacturing process and leave the testing and kitting of parts such as ramp gate kits, latching and pin assemblies and all the required testing and verification of parts. AFT Fasteners is looking forward to working with an agency whose mission statement is to improve future safety and performance, address regulatory issues, enhance the image of the industry, provide educational materials and informative manufacturing tools to its members.
AFT Fasteners is a fastener manufacturing, importing, distribution, plating and industrial services company "All-in-One", offering turn-key cost effective solutions to our customers. AFT also supplies high-quality standard, non-standard and specialty fasteners and hardware products. AFT serves customers with sales and distribution centers throughout the United States, and this allows them to provide expedited trailer industry parts and hardware. Please contact AFT's professional sales staff at info(at)aft-corp(dot)com or call (877) 844-8595 for information on how AFT Fasteners can provide your business with high quality trailer manufacturing parts and services.