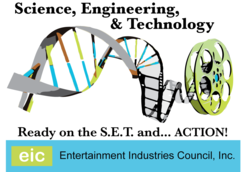 "What better way can we start to achieve these goals then by being inspired by the stories of the experts and leaders in these fields at the STEM Summit in Dallas?"
- Brian Dyak, President & CEO, EIC
Washington, DC (PRWEB) May 05, 2012
America needs a workforce skilled in science, technology, engineering and math (STEM), and a notable group of companies and organizations is uniting to ensure the nation gets the message. This summer, thousands of education, policy and industry thought leaders will convene in Dallas, Texas for STEM Solutions 2012, a groundbreaking leadership summit that will bring the best minds and best practices together on a national stage to open the conversation and develop solutions to the STEM skills shortage.
Among the STEM stakeholders who have signed on to get behind the Summit is the Entertainment Industries Council. As one of the conference's Co-chairs, EIC will provide topical input, expertise and support throughout the planning stages, as well as during the conference.
The organizers of STEM Solutions 2012 identified EIC as a change maker involved in shaping the economy's future. To excite the potential and future workforce about science, engineering and technology, the Entertainment Industries Council created Ready on the S.E.T. and… Action! According to Brian Dyak, President & CEO of Entertainment Industries Council, Inc., "The program directly connects experts in these fields with media and entertainment representatives. We're developing resources for writers, producers, directors and journalists. to reinforce accurate portrayals of engineers and scientists in the entertainment media space."
Dyak went on to explain his organization's enthusiasm for STEM Solutions 2012, "The Entertainment Industries Council is dedicated to making a difference, in part by reducing stereotypes associated with science, engineering, technology and mathematics. What better way can we start to achieve these goals then by being inspired by the stories of the experts and leaders in these fields at the STEM Summit in Dallas? Many of their stories are current news and wonderful examples of accomplishments that shape our economic future."
Event organizers, U.S. News & World Report, Innovate+Educate and STEMConnector™ have enthusiastically welcomed EIC's involvement. "To say we were extremely pleased when the Entertainment Industries Council signed on is an understatement," said Brian Kelly of U.S. News & World Report. "Their deep-seated commitment to the STEM initiative, as well as their unique expertise and creative approach to finding answers, make them an invaluable addition to our leadership team. We are encouraged by their support and grateful for their many important contributions."
To learn more about how you can help shape our nation's future by participating in STEM Solutions 2012, visit http://www.USNewsSTEMSolutions.com. Furthermore, EIC has negotiated a special program rate for its network of contacts who register using code EIC020.
U.S. News STEM Solutions 2012—A Leadership Summit is a mission-critical event focused on the shortage of science- and tech-related skills in the American workforce. U.S. News & World Report, together with Innovate+Educate, STEMConnector™ and more than 40 key organizations will bring together for the first time on a national stage major corporations, leading educators, top policy makers and education technology companies to create a collective that will fill jobs now and advance the future STEM workforce. Held June 27 – 29, 2012 at the Sheraton Dallas Hotel in Dallas, Texas.
U.S. News & World Report is a print and digital publisher of news and information in the areas of politics, policy, education, health care, personal finance and other topics of consumer interest.
Innovate+Educate is a national non-profit led by Fortune 500 companies with a goal of aligning STEM education and workforce efforts on a state-by-state basis.
STEMConnector™ is a resource center and network that helps bring together the many STEM projects around the country with a website of more than 3,000 organizations dedicated to STEM education; jobs and diversity are key priorities.
About Entertainment Industries Council
EIC, a non-profit organization, was founded in 1983 by leaders of the entertainment industry to bring the power and influence of the industry to bear on communication about health and social issues. The organization is considered to be the chief pioneer of entertainment outreach and one of the premiere success stories in the field of entertainment education. EIC provides information resources for entertainment creators through innovative and time-proven services and methods of "encouraging the art of making a difference" from within the entertainment industry. EIC produces the simulcast national television special PRISM Awards Showcase which addresses accurate portrayals of prevention, treatment and recovery from drug, alcohol and tobacco use, and mental health concerns. The organization also produces the S.E.T Awards, honoring positive and non-stereotypical portrayals of science, engineering and technology.
###