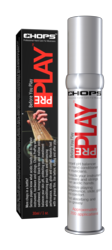 "We worked on this project for 18 months to get the right formulation, specifically for guitar players. It needed to provide the right benefits; clean, condition, pH balance, and fast absorption but it also need to have the right feel."
Vancouver, BC (PRWEB) May 14, 2012
Graph Tech Guitar Labs, the world's largest manufacturer of premium guitar nuts and saddles is thrilled to announce the release of PrePlay™. PrePlay is the first product in the new CHOPS line of professional hand care for musicians.
Seasoned pros know what acidic hands can do to their instrument, hardware and strings. Acid, from sweaty hands can attack an axe and deteriorate a guitar's finish, shorten string life and eat away at precious hardware.
PrePlay is specially formulated to balance skin pH on contact; neutralizing acid and protecting the instrument. The lubricating nature of this product also adds slide, glide and comfort feel to the neck.
PrePlay contains natural oils and extracts including sandalwood, lemongrass, black tea, mallow, clove, Irish moss, rosemary and chamomile. PrePlay is hypo-allergenic has a fresh, clean citrus smell.
Using PrePlay is easy. Pump once, rub in and play. It's fast absorbing and non greasy. PrePlay has never been tested on animals. PrePlay comes in a 30ml pump action bottle that contains up to 200 uses. Suggested retail price is $19.95 or about 10¢ per application.
PrePlay will be available in music stores worldwide MAY 2012.
About Graph Tech Guitar Labs
Founded in 1983 by President Dave Dunwoodie, Graph Tech Guitar Labs manufactures more guitar nuts and saddles than any other company in the world. Focused on innovations to improve guitar tone and vibration for optimal performance, Graph Tech is the maker of TUSQ® and Black TUSQ® XL man-made ivory, String Saver™saddles, String Saver™ Classics steel saddles, ResoMax™ Harmonic Bridge System and ghost® Modular Pickup Systems. The world's leading retailers, luthiers, and guitar manufacturers choose Graph Tech products including: Carvin, Fender, Gibson, Godin, Guild, Hagstrom, Ibanez, Jay Turser, Lag, Larrivee, Martin Guitars, Samick, Schecter, Taylor Guitars, Washburn and Yamaha.