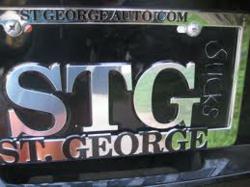 The report from Borrell Associates predicts out of every dollar spent on automotive advertising by dealerships this year, 40 cents will go to digital media.
Ontario, CA (PRWEB) May 03, 2012
Supported by data from Borrell Associates, an advertising consulting firm out of Virginia, public relations specialists at St. George Auto Sales expect to see more car dealerships focus advertising efforts on digital media this year. They agree with Borrell Associates' prediction that about 40% of money spent on automotive advertising by dealerships in 2012 will go toward digital media. Common digital advertising includes banner ads on search engines like Google, and campaigns directed at social media sites like Facebook, Twitter, and YouTube. While those at St. George confirm the effectiveness of these methods, they argue many dealerships are overlooking a particularly useful outlet for digital advertising that in most cases is free.
Instead of buying banner ads and sponsoring videos posted on YouTube, St. George suggests dealerships post their own videos on the free posting site. And instead of putting up videos advertising their dealership, they suggest advertising the individual vehicles they have on their lots. While St. George would like to take credit for this idea, they say it originally came from private sellers who found much success connecting with potential buyers through YouTube. The reasons for this, they say, are numerous.
For example, advertising a vehicle with video footage allows dealers to interact with potential buyers as if they were actually at their dealership. St. George explains, when a customer is interested in a car the first thing their sales people do is walk them around it and point out particular features they may be interested in. They note the same thing can be done on video, especially those that are posted with audio. Additionally, because the potential buyer doesn't have to reveal their identity to watch the video, they are more likely to check out cars they might not have had the gumption to ask to see in person. Therefore, although advertising in this manner might be more time consuming, vehicles advertised in this way will get a lot more looks, which usually translate into sales leads.
About St. George Auto Sales
St. George Auto Sales is your friendly neighborhood used car dealership. With a full selection of pre-owned vehicles, St. George Auto Sales is excited to be serving the automotive needs of the greater inland empire.
For more information please call 800-790-1420