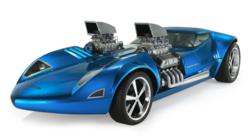 Full-size cars with Hot Wheels personality will provide an excellent opportunity for parents and grandparents to take a stroll down memory lane with their children and grandchildren." - Dr. Jeffrey H. Patchen
Indianapolis, IN (PRWEB) May 07, 2012
Full-sized Hot Wheels® cars are ready to race into The Children's Museum of Indianapolis May 26 in the all-new exhibit, Hot Wheels For Real™. just in time for The Greatest Spectacle in Racing. This new family exhibit will serve up immersive activities for three generations of Hot Wheels fans. There's something for mom, dad, grandparents and of course today's youngest Hot Wheels fans.
Featuring Hot Wheels die-cast cars as well as life-size Hot Wheels muscle cars and hot rods (like Bone Shaker®, Twin Mill®, and the Deora® II), Hot Wheels For Real invites children and families to create their own cool custom ride in the Hot Wheels Speedshop as they apply dynamite decals to a full-size car's exterior, change out pretend car parts with kid-friendly tools, and try on a mechanic's outfit. Imaginations will run wild in a special area designated for the creation of track layouts. Then, it's "pedal-to-the-metal" for youngsters who want to jump cars through hoops or loop them around some of the famous orange track in a pre-designed layout.
See some of the most famous classic cars at The Children's Museum and experience the IZOD Presents Hot Wheels Fearless at the 500 Stunt using a die-cast Hot Wheels car and track set, recreating Team Hot Wheels™ Yellow Driver Tanner Foust's record-breaking jump made at the Indianapolis Motor Speedway in May 2011.
"The love of cars abounds in the Racing Capital of the World. Full-size cars with Hot Wheels personality will provide an excellent opportunity for parents and grandparents to take a stroll down memory lane and share the artistry and engineering of these super-fast, super-flashy cars with their children and grandchildren," said Dr. Jeffrey H. Patchen, president and CEO, The Children's Museum of Indianapolis. "At the same time, the hands-on exploration and testing will encourage families to problem-solve together as they build tracks and test each car's performance."
Introduced by Mattel in 1968, the "tricked-out" cars have come a long way (both in the die-cast and life-size varieties). Since 1968, more than 800 models and 11,000 variations of Hot Wheels cars have been created and more than 4 billion Hot Wheels die-cast cars have been sold. Some Hot Wheels cars can reach scale speeds of 200 mph or more and have been clocked as high as 300 mph.
"Having a Hot Wheels exhibit at The Children's Museum of Indianapolis is truly an honor," said Matt Petersen, vice president Marketing, Boys Intellectual Property, Mattel, Inc. "Celebrating the legacy of Hot Wheels in a city that's synonymous with motorsports gives us the opportunity to bring fans of all ages together with a fun and immersive exhibit that's all about learning and discovery."
Hot Wheels For Real is presented by TCU. Supporting sponsors are Church Brothers Collision Repair, Indianapolis Honda Dealers and Riley Hospital for Children at Indiana University Health.
About The Children's Museum of Indianapolis
The Children's Museum of Indianapolis is a nonprofit institution committed to creating extraordinary family learning experiences that have the power to transform the lives of children and families across the arts, sciences and humanities. For more information about The Children's Museum, visit http://www.childrensmuseum.org, follow us on Twitter @TCMIndy, Facebook.com/childrensmuseum and YouTube.com/IndyTCM.