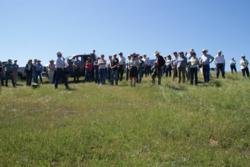 The tour enabled us to see firsthand how sound stewardship of rangelands in the Bay Area can, for example, increase species diversity and enhance conditions for endangered animals and plants. - Ashley Boren, Sustainable Conservation
San Francisco, Calif. (PRWEB) May 03, 2012
A tour of Tim and Melinda Koopmann's San Francisco Bay Area ranch April 20 demonstrated how critical farming families are to the health of California's natural resources.
The tour, which was sponsored by the California Farm Bureau Federation, Sand County Foundation, Sustainable Conservation and the Natural Resources Conservation Service (NRCS), covered several of the Koopmanns' conservation practices, including soil, water, wildlife and grassland management techniques. These efforts led to the Koopmanns being recognized with the 2011 California Leopold Conservation Award.
"The Koopmanns are proof that ranchers are some of California's best conservationists," said Ashley Boren, Executive Director of Sustainable Conservation. "The tour enabled us to see firsthand how sound stewardship of rangelands in the Bay Area can, for example, increase species diversity and enhance conditions for endangered animals and plants. I encourage everyone to visit a local ranch to see how they help in maintaining a healthy environment."
Tim and Melinda's management practices on their 850-acre ranch in Sunol have positively impacted wildlife, grassland and, especially, water quality on and off of their ranch. Sound stewardship practices on their land benefit the Alameda Creek watershed and San Francisco Bay. As a Watershed Resource Specialist for the San Francisco Public Utilities Commission (SFPUC), Tim manages over 40,000 acres of watershed land. He formed a team of public agencies and agricultural organizations to develop a comprehensive watershed management and monitoring plan that has been recognized in California and internationally.
A major theme of the tour was the Koopmanns' struggle with succession issues. Faced with encroaching development and the reality of selling or sub-dividing their ranch, the Koopmanns placed two conservation easements on their ranch. They conserved a naturally occurring pond and the surrounding 31 acres of grassland in perpetuity for the endangered California tiger salamander. The Koopmanns also conserved 107 acres in perpetuity to slow the encroachment of an adjacent golf course. These easements allowed the family to pay their estate tax bill and, most importantly, allowed them to stay on their land.
"We had plenty of opportunities to sell the ranch in its entirety, which could have been done easily," Tim Koopmann said. "But there was, since 1918, too much in the way of blood, sweat and tears in this family operation that we made the decision not to sell."
Tour participants included representatives from the California Farm Bureau Federation, Sustainable Conservation Sand County Foundation, as well as attendees from several government and non-government organizations and numerous California landowners.
"The Koopmanns' unwavering dedication to keep their working lands working is truly inspirational," said Kevin Kiley, Communications Director, Sand County Foundation. "This tour was not only a great celebration of achievements in private land stewardship but also a reminder of the difficult challenges agricultural families must often overcome to reach their goals."
The Leopold Conservation Award in California is sponsored by the S.D. Bechtel, Jr. Foundation, The Lynde and Harry Bradley Foundation, The Nature Conservancy and Farm Credit.
For more information, visit http://www.leopoldconservationaward.org