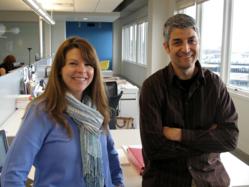 They truly understand the business challenges our clients face
Seattle, Washington (PRWEB) May 07, 2012
Blink Interactive is thrilled to introduce interaction design veterans Lisa Spencer and Jupiter Barton as the newest additions to its growing team of user experience consultants.
"We spent a great deal of time looking for the right people to join our team. Both Jupiter and Lisa bring a strong history of UX experience combined with client consulting skills. They are going to be huge contributors to Blink" states Karen Clark Cole, Co-founder and President of Blink Interactive.
Blink continues to experience dramatic growth in demand for its services. Research and design teams have increased by nearly 60% over the past twelve months. With the need to service a rising number of large national clients, Blink brought in Lisa and Jupiter to expand its delivery management team.
Lisa has dedicated the last 15 years to the study and design of usable and engaging user experiences. She strives to help organizations in defining their user experience strategy, enabling them to bridge their business goals with the design of their product experience. Lisa has advanced degrees in Medical and Life Sciences, specializing in Human Factors. She also holds Bachelor degrees in Sociology and Psychology.
Prior to joining the Blink, Jupiter spent 4 years working in the mobile arena. He has experience with mobile applications, mobile web, cross platform solutions, and OS level Android device customization. Jupiter has combined degrees in Fine Arts and Web Design/Multimedia with a background in Interaction Design.
"As we looked to expand our leadership team it made sense to seek out individuals with experience from the types of organizations we work with. Both Lisa and Jupiter bring a great deal of enterprise experience. They truly understand the business challenges our clients face" says Kelly Franznick, Co-founder and CEO of Blink Interactive.
About Blink Interactive
Blink is a Seattle-based user experience research and design firm dedicated to helping clients achieve their business goals through a flexible user-centered design approach. We thrive on making complex interactions simple, compelling, and meaningful. Our evidence-driven design℠ services help companies who depend on technology take the guesswork out of delivering great user experiences. For more information, please visit http://www.blinkux.com.