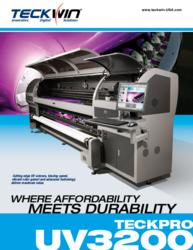 "As the industry continues to adopt UV technology, an increasing number of print service providers are looking at high-speed UV flatbeds and roll-to-roll inkjet printers." Ryan Buy-Teckwin International
Las Vegas, Nevada (PRWEB) May 05, 2012
M2 Displays, a California based leading digital wide & super wide format printing company offering high quality, full-service commercial and wholesale visual graphics solutions recently installed the Teckwin TeckPro UV3200 printer.
The company chose the Teckwin 11 foot (3.2meter) roll-to-roll TeckPro UV printer to keep up with the rapid advances in technology and continue meeting the growing demands of its diverse customer base. M2 Displays strives to offer innovative products for a fair and competitive price relative to the wide format sign industry.
"We believe that our sector of the printing industry is in a position for the greatest growth and we are positioning ourselves to be a front runner in that growth. We desire to build strong long lasting relationships to add to our already impressive customer list" said Bryan Mehr, President of M2 Displays.
M2 Displays has state of the art systems to provide the highest quality output at the lowest possible prices for customer projects. "We want to work with our customers so that they can stand out from the crowd" added Bryan Mehr. The TeckPro UV3200 roll-to-roll is another important tool geared to continue meeting the growing demands of M2 Displays diverse customer base.
"As the industry continues to adopt UV technology, an increasing number of print service providers are looking at high-speed UV flatbeds, as well as dedicated UV roll-to-roll printers. Teckwin portfolio of UV printers allows print shops to offer lower operating costs, higher quality output and expanded printing capabilities.TeckPro UV3200 is the affordable industrial grade printer built to perform - it's where affordability meets durability." said Ryan Buy, Sales Director-Americas for Teckwin International. "We are proud to have M2 Displays as our customer and look forward to strengthening our technology partnership" concluded Ryan Buy.
The Teckwin large format printers combine cutting edge UV technology with brilliant color gamut and blazing speed. The Teckwin portfolio of UV flatbed printing systems is the industry value leader, providing the unbeatable combination of a fixed print bed with a fully featured independent roll media print system. Teckwin designs, manufactures and supports UV flatbed and roll-to-roll inkjet printing systems and digital router/cutter solutions for use in the most demanding graphics applications.