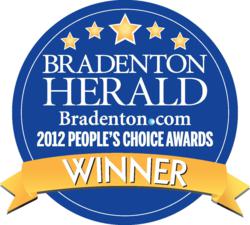 We are again honored to win this award and believe it is a reflection of our company's purpose to serve customers with excellence and add value to our community
Bradenton, FL (PRWEB) May 05, 2012
For the third year in a row, Hide-Away Storage won the Bradenton Herald's "People's Choice Awards," which is voted on by the paper's readers. On Sunday, April 29th, the Bradenton Herald announced the winners of the award that recognizes people, businesses and activities in more than 150 categories.
"We are again honored to win this award and believe it is a reflection of our company's purpose to serve customers with excellence and add value to our community," said Steve Wilson, the managing partner of the Hide-Away Storage chain which has self-storage facilities in St. Petersburg, Bradenton, Sarasota, Ft. Myers, and Naples.
Hide-Away Storage has four self-storage facilities in Manatee County, all of which are considered part of the greater Bradenton area. In addition to self-storage units, Hide-Away Storage also offers portable or mobile storage units for delivery and pick-up and moving services. Kiosk are also available at all four Manatee County Hide-Away Storage locations to provide customers with 24-hour rental and payment options.
The Bradenton Herald is the largest of several daily newspapers which circulate in Manatee County where Bradenton is located. To see a full list of 2012 winners, please visit: http://www.bradenton.com/2012/04/30/4020071/2012-peoples-choice-award-winners.html
About Hide-Away Storage
Hide-Away Storage operates 10 traditional self-storage facilities and two Mobile Storage warehouses on the Southwest coast of Florida. The self storage facilities are located in St. Petersburg, Ellenton, Bradenton, Sarasota, Ft. Myers, and Naples, Florida. Hide-Away delivers portable storage units in Pinellas, Manatee, Sarasota, Lee and Collier Counties. The company also provides full-service moving of household goods. Hide-Away has approximately one million square feet of storage space, and is headquartered in Sarasota, Florida. The company was started in 1977 in Bradenton by Steve Wilson, who remains the managing partner.
For more information on Hide-Away's storage services and pricing, visit: http://www.hideawaystorage.com
Contact: Hide-Away Storage
Meisha Wilson
Hide-Away Storage Services
941-755-1166 ext. 1004