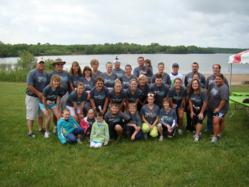 If telling my story helps save the life of one person, then I will have done my job.
Knoxville, IA (PRWEB) May 08, 2012
After completing the Quad Cities Marathon in 2009, Brenda Davis thought her body was just recovering from the grueling physical demands of racing. Davis had competed many times before, from 5k runs to half-marathons, and knew what to expect. But something didn't seem right. Nearly a year later, Davis was still experiencing strange symptoms - she couldn't sleep and had debilitating back aches, diarrhea, bloating, and pain during intercourse. Eventually, the abdominal pain was causing Davis to double-over in anguish and she had to miss work. Davis' husband insisted that she see a doctor; she was diagnosed with Irritable Bowel Syndrome. But her symptoms still didn't subside. Two more trips to the doctor brought no results and eventually, Davis' sister - a nurse - stepped in and had Davis scheduled for a transvaginal ultrasound at the clinic at which she worked.
The test confirmed - Davis had softball-sized masses on each of her ovaries. On June 6, 2010, Brenda Davis was diagnosed with stage IIC Low Malignant Potential Ovarian Cancer. From the time of diagnosis to her surgical procedure - it was less than 5 days and Davis was thrown into the whirlwind of emotions a cancer diagnosis brings.
According to the American Cancer Society, an estimated 22,280 women will be diagnosed with ovarian cancer in 2012. An estimated 15,500 women will die from ovarian cancer. It ranks fifth amongst cancer deaths in women and is the most deadly of all the gynecological cancers. Unfortunately, most cases are diagnosed in their later stages when the prognosis is poor. However, if diagnosed and treated early, when the cancer is confined to the ovary, the five-year survival rate is over 90 percent. That is why it is imperative that the early signs and symptoms of the disease are recognized, not only by women, but also by their families and the medical community. There is currently no early detection test for ovarian cancer. Pap tests do not detect ovarian cancer. Until there is a test, the key to early diagnosis is awareness. And the key to awareness is knowing the subtle symptoms of ovarian cancer and urging women to take early action and live.
Almost two years later, Brenda Davis is cancer-free and training to run again. Currently, she is prepping for the National Ovarian Cancer Coalition - Iowa Chapter's Run/Walk to Break the Silence on Ovarian Cancer on June 9, 2012 in West Des Moines. She also plans to run a half-marathon - the Des Moines Marathon - in the fall.
"We thank God every day for helping us get through the worst nightmare of our lives. The 'gray ghost,' as I call it, still lurks in my mind, but I know that I am cancer-free today," Davis says. "If telling my story helps save the life of one person, then I will have done my job. In the mean time, I will continue to tell my story and encourage others to pay attention to the message their body is sending them."
The Run/Walk to Break the Silence on Ovarian Cancer is the largest fundraiser and awareness event for the National Ovarian Cancer Coalition. Organized by local Chapter volunteers, this event celebrates our survivors, remembers those we've lost to ovarian cancer and increases awareness about ovarian cancer. Registration fees include a t-shirt and access to all activities on the day of the event. Pledges and donations are welcome, but not required. The National Ovarian Cancer Coalition is the largest and oldest ovarian cancer awareness and education organization in the United States. Since its inception in 1995, the National Ovarian Cancer Coalition (NOCC) has been committed to raising awareness of ovarian cancer in communities across the country and to providing education, support and hope for women with ovarian cancer and for their families. NOCC has established itself as an important national advocate for patients and families struggling with ovarian cancer. To register for the Iowa Chapter's "Run/Walk to Break the Silence on Ovarian Cancer," please visit nocc.kintera.org/Iowa or call 515-289-0871.