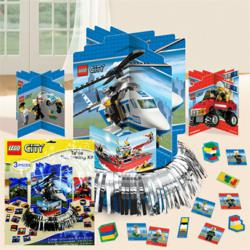 "Legos, Sesame Street, and the Transformers movie franchise are among many to release new lines of products aimed at children's birthday parties."
Chicago, IL (PRWEB) May 04, 2012
Every kid wants a cool birthday theme based on their favorite toy or movie. But parents want a good price and easy shopping, a combination that is often tough to find in one place, let alone all in the same theme. An increasing number of vendors have been trying to fix this problem by releasing party kits and offering party supplies all in one theme. Legos, Sesame Street, and the Transformers movie franchise are among many to release new lines of products aimed at children's birthday parties. Now parents can find paper plates, cups, napkins, decorations and more all under these new themes.
The Transformers movie franchise proves to still be popular among kids, and a new line of themed party supplies makes it all the more easier to coordinate. Two sizes of plates and napkins feature different iconic characters and also are great for a main meal followed by dessert. Matching 9oz cups finish the new line.
Legos are making a comeback with the new generation, and with all the different sets it really has a lot of options. Currently, online party supply company, Windy City Novelties, offers Lego City party supplies that includes paper goods and decorations of all kinds. There are paper goods such as plates and napkins, but there are also fun additional accessories, such as a table cloth with a variety of characters and vehicles. A decorating kit contains two table centerpieces and confetti featuring Lego characters. Hanging swirl decorations and goodie bags round out the collection.
Among the new items in kids parties are new Sesame Street party supplies. Featuring loveable characters everyone grew up with, the collection offers a supply of themed paper goods for the party. There is a colorful birthday banner that is customizable with numbers, which are included in the set. Also included is a decorating kit, but what really stands out is the 6 foot tall scene setter with all the characters on it. This is a great addition to the party and also great for photo ops!
The fun doesn't stop here on the Windy City Novelties site. Users can browse through many different themes for their child's birthday party from Disney Princesses' to Harley Davidson! Each theme has the matching paper goods – plates, cups, napkins- necessary to knock out your child's birthday party shopping in one place!
ABOUT WINDY CITY NOVELTIES
Windy City Novelties, a party supply company founded in 1983, is known for their great selection and competitively priced items. They have an A+ rating from the Better Business Bureau, and are also a NexTag 5 Star Seller. From their website they offer fast and friendly shipping along with customer service. From glow products to balloons in every color of the rainbow, and even customizable banners and invites, Windy City Novelties has over 15,000 products and adds more each week. For more info, visit windycitynovelties.com.
For More information on Lego and Sesame Street Party Supplies check out their sites:
http://city.lego.com/en-US/Default.aspx
http://www.sesamestreet.org