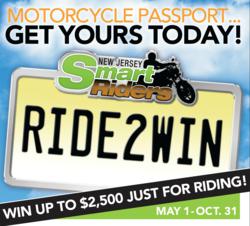 North Brunswick, NJ (PRWEB) May 05, 2012
The Brain Injury Alliance of New Jersey (BIANJ), along with Rider Insurance is proud to announce the launch of RIDE2WIN Passport Program, a motorcycle safety campaign geared toward the more than 70,000 registered motorcycle riders in New Jersey. The program, funded by the NJ Division of Highway Traffic Safety, runs from May 1 – October 31 and will take motorcyclists on a statewide ride as they learn the importance of smart gear, smart judgment, and smart training.
In New Jersey, motorcycle fatalities are on the rise. Between 2003 and 2007, 377 motorcyclists died on New Jersey's highways. During the same time period, motorcycle registrations increased by 17 percent. According to the Federal Highway Authority, about 2,500 motorcycles are involved in crashes each year on New Jersey's roadways and the number continues to grow.
"Clearly, there are more reasons than ever to promote motorcycle safety and awareness," says BIANJ's President and CEO, Barbara Geiger-Parker. "The exciting thing about RIDE2WIN is that we've figured out a fun way to reward riders for advocating safe motorcycle riding, and for supporting New Jersey's motorcycle-related businesses."
The program is free for all riders, and the idea is for them to travel throughout the Garden State, visit as many participating locations as they can, and get their RIDE2WIN Passport route book stamped. At the end of the riding season, registered riders are entered to win cash and/or prizes based on the number of stamps they received. To check out the list of participating location or to learn more about RIDE2WIN, visit http://www.njsmartriders.org
"The promotion of motorcycle safety is a priority at Rider Insurance," says Rider Insurance's COO, Lauren Belfiore. "We are proud to support BIANJ and the RIDE2WIN Passport Program in an effort to increase awareness and make riding safer for NJ motorcyclists."
About BIANJ
The Brain Injury Alliance of New Jersey – The Voice of Brain Injury in NJ - is a statewide nonprofit organization that serves more than 10,000 individuals annually through its family support, advocacy, education and prevention programs. BIANJ brings together people with brain injury, their families and friends, and concerned allied health professionals to improve the quality of life people experience after brain injury. For more information on the services and resources of the Brain Injury Alliance of New Jersey, please call the toll-free helpline at 1-800-669-4323 or visit http://www.bianj.org.
About Rider
Founded in 1971 by motorcycle enthusiast, Harry Bleiwise, and built on his dedication to riding, Rider is currently the largest motorcycle insurance provider in New Jersey, and the only carrier serving the motorcycle community exclusively. Rider continues to expand its operations and provides coverage to riders on the highways and back roads of Delaware, Indiana, Maryland, Ohio, Pennsylvania, and West Virginia. For more information on Rider Insurance, call 800-595-6393 or visit http://www.rider.com.