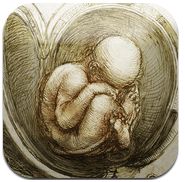 We have linked our interactive 3D technology with astonishingly accurate drawings completed nearly 500 years ago.
London, UK (PRWEB) May 04, 2012
Primal Pictures has collaborated with the Royal Collection Trust to produce 3D images of Leonardo Da Vinci's world-famous anatomy illustrations. Five hundred years after they were drawn, Leonardo's anatomical drawings are presented next to 3D anatomy computer models from medical software company Primal Pictures in a new app for the iPad: 'Leonardo da Vinci: Anatomy', published by the Royal Collection and Touch Press. The app coincides with the opening of the largest-ever exhibition of Leonardo's ground-breaking studies of the human body, at The Queen's Gallery, Buckingham Palace.
Primal Pictures' 3D anatomical models have been fully integrated and carefully matched to Leonardo's illustrations, while Touch Press's rotational technology makes them fully interactive. The App offers the first truly 3D view of Leonardo's 268 surviving pages of anatomical drawings, which were likely acquired by King Charles II in the late 1600s and are part of the Royal Collection.
"Primal Pictures' models were chosen to accompany the Leonardo drawings because of our unique level of accuracy and dramatic realism," said Laurie Wiseman, Founder & Publishing Director at Primal Pictures, "It's a privilege for our company to be part of this modern view of Leonardo."
In addition to interactive 3D anatomical models, and interviews with experts on Leonardo's work and the history of medicine, the App tells the full story of the challenges the Renaissance master faced when he sought fully to investigate human anatomy in the 1500s.
"Our goal as a company is to provide students and practitioners with a totally new way to view, understand and virtually interact with every element of the human body," said Peter Allan, President of Primal Pictures. "Now ."
Primal Pictures is a 2012 winner of the highly prestigious Queen's Award for Innovation, which recognised its unique approach to developing 3D imagery using detailed medical scan data of the human body. Primal used this data to create a wireframe 3D model for each anatomical structure, which was translated into three-dimensional images that showcase the interrelations of the body systems and allows anatomy to be viewed from every conceivable angle. Primal Pictures offers more than 40 award-winning titles covering Anatomy & Physiology and many clinical specialties, which are used for medical and patient education and practitioner reference worldwide.
"Leonardo da Vinci: Anatomy' is a fantastic way to explore some of the most amazingly detailed and accurate anatomical drawings of all time," said Martin Clayton, Senior Curator of Prints and Drawings at the Royal Collection and author of the app. "Leonardo would have been fascinated by modern medical imaging and I think would have embraced the way in which this app brings his drawings to life."
'Leonardo da Vinci: Anatomy' is priced at £9.99 ($13.99) and is now available to download via the iTunes App Store.
The Royal Collection, one of the world's greatest art collections, is held in trust by The Queen for her successors and the nation. The Collection is administered by the Royal Collection Trust, a registered charity. The aims of the Trust are the care and conservation of the Royal Collection and the promotion of public access and enjoyment through exhibitions, publications, loans and educational activities.
Primal Pictures offers the most complete, detailed and medically-accurate 3D model of human anatomy for students, educators and health care practitioners. Primal Pictures' award -winning 3D range of human anatomy, surgery and specialty titles are used for patient education and practitioner reference worldwide.