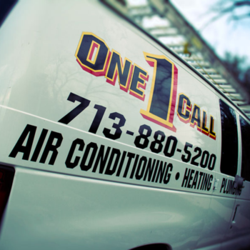 I simply wasn't willing to leave an elderly woman without AC, regardless of her ability to pay
Houston, TX (PRWEB) May 04, 2012
Douglas Anderson for local service news Houston: according to Olivia Marlow, Houston air conditioning repair company One Call is a lifesaver. Olivia was a distressed elderly lady living near Allen Parkway who contacted One Call in desperation during the last extreme heat wave. As Olivia explained to the phone representative, One Call was the fourth air conditioning service company in Houston she had contacted as her air conditioning system was no longer working; and being 90 years old and depending solely on social security she would be unable to pay for repairs. According to Ms. Marlow, she had been turned away by other AC repair companies she had contact, and could One Call help her? The matter was immediately passed along to One Call's owner, Edgar, who insisted a repair truck be dispatched immediately regardless of her inability to pay for any services that may be required.
Upon arrival, One Call technicians performed a complete diagnostics of the air conditioning system to check for problems and ascertain an appropriate solution(s). After the One Call crew determined that the problem was being caused by a failed fan motor, the part was quickly acquired and replaced free of charge, restoring the air conditioning system to a properly working state. When asked about the act, Edgar answered "It's in the triple digits outside and I couldn't just leave an elderly lady at risk of heat exhaustion in the middle of the summer!" Edgar and One Call evidently care a great deal about ensuring that Houston residents stay cool with properly working air conditioners!
One Call is aptly named, performing air conditioning repair in Houston as well as plumbing, sewer, electrical, and remodeling services in Houston and surrounding areas for the past 23 years. One Call service crews do not work on commission and have a reputation for honesty and integrity and are well known in the area for their free consultations and half hour emergency response times, day or night. The company holds an A+ rating with the Better Business Bureau and is locally owned and operated by Edgar Connery.
This story was written by Douglas Anderson for local service news Houston