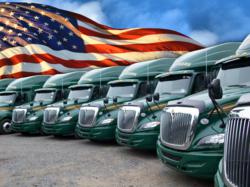 Houston, TX (PRWEB) May 05, 2012
Hermann Services announced that it has installed Qualcomm Fleet Management Systems in twenty-five over-the-road and dedicated trucks based in its Houston, Texas terminal. The company plans to roll the systems out to its entire Southwest fleet by 2013 to improve overall fleet safety, fuel efficiency and performance.
With the Qualcomm best-in-class fleet management set of tools Hermann is streamlining operations through the electronic automation of truck driver logs including arrival and departure shipping data. The systems also help manage and remediate performance related to CSA scoring methodology for reduced inspections and interventions.
'With Qualcomm our drivers can focus on their highest priority which is transporting loads safely and efficiently," said Jeffrey Hermann of Hermann Services. "It will give our fleet managers and dispatchers immediate access driver availability and safety-audit reports, which will increase the efficiency of our operations. And it will help our company remain fully compliant with the latest electronic on-board recording regulations of the FMCSA."
Hermann's Qualcomm-enabled trucks are now able message dispatch in real-time with shipping information, mechanical problems, and other issues for dispatch to proactively and swiftly rectify any situation. Drivers can also automatically maintain hours of service logs and vehicle inspection reports using voice recognition communications. The system's on-board navigation includes custom routing for 53' trailers, twins, and Hazmat classes. Other driver safety features include points of interest for truck services, stops, rest areas, and weight stations.
Launched in 1927, when Fred J. Hermann bought his first truck, Hermann Services is now entering its fourth generation of family ownership delivering supply chain management solutions that run like clockwork throughout the U.S.
For more information about Hermann Southwest Transportation, please contact Jeffrey Hermann, VP of Transportation Operations, by email at jmhermann(at)hermanntds(dot)com. Visit http://www.hermanntds.com or call (800) 524-0067 to learn more.