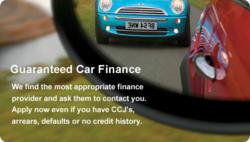 Our continuing work to expand our range of services now allows us to offer better deals to a wider range of customers
London, England, UK (PRWEB) May 04, 2012
United Kingdom residents who have long been denied the dream of car ownership because of bad or inadequate credit now are all abuzz in regards to a top British car finance website's latest update in regards to their services.
The website is located at the address http://www.usedcarfinancequote.co.uk and has been a top destination for years when it comes to researching and receiving reasonable, competitive used car finance quotes. However, this latest update is expected to spell big things for the site into the future. The service upgrade adds a vastly increased variety of options to the mix for people who have bad credit or no credit. These include but are not limited to lower interest rates and a much wider selection of cars than was previously available.
"Our continuing work to expand our range of services now allows us to offer better deals to a wider range of customers," says sales director Steve Woosnam in response to inquiries into the new service upgrade. This means big things for people who may have been previously unable to take advantage of the convenient service this site offers.
UK residents interested in obtaining an affordable, sensible quote on a car are able to browse options, apply for plans, and even get approved within minutes right through the site itself. This helps take the guesswork out of what can already be a daunting process for many and eliminate any sort of confusion or miscalculation that can come about when relying on multiple sites or services to provide quotes.
Usedcarfinancequote.co.uk has been striving to provide the perfect one-stop car financing option and succeeding admirably, so this latest addition to the service package will only improve the service further.