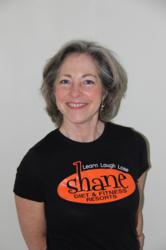 Every choice you make counts toward your intent of being the best you can be, says Birch.
Ellenville, NY (PRWEB) May 08, 2012
Debbie Birch has joined Shane Diet & Fitness Resorts (SDR) as the new Program Director and Fitness Coach.
Birch, an ACE Certified Personal Trainer, lifestyle and weight management consultant, instructor and lecturer began studying Pilates during her dance training at the North Carolina School of the Arts in Winston-Salem. She went on to earn her Bachelor of Fine Arts at Denison University in Granville, Ohio.
With her training and newly-minted degree in hand, she headed for New York City and secured dancing roles in many Broadway, off-Broadway productions and national road tours of successful shows. She spent her hours off the stage teaching dance and fitness classes at Broadway Dance and Manhattan Plaza Health Club and served as a personal trainer to many celebrities and fellow performers.
For the past six years, Birch was the Director of Fitness and Nutrition at the New Age Health Spa in Neversink, New York where she was beloved by the guests. Birch also created her own line of chemical-free, plant-based protective skin care - Birch Beauty Family Organic Skin Care, using detoxifying birch extract. She is featured on six exercise DVDs—excerpts of which can be viewed, along with her skincare products, at http://www.birchbeauty.com.
Co-Owner of Shane Diet & Fitness Resorts, Ziporah Janowski, is delighted to have found Birch to fill this important position saying, "Debbie's wide range of experience in fitness techniques and designing the perfect program for many types of individuals, coupled with her intuitive sense of how to help people reach their highest potential, made her the ideal choice to fill this vital job at SDR. We are thrilled to have her working with us and look forward to seeing the exciting program designs and ideas she will bring to the job. Guests will love her warmth and kindness too."
Birch, whose focus has always been on helping people on their individualized journey towards health and happiness, is delighted to be joining the staff at SDR. "The owners and staff at Shane Diet & Fitness Resorts understand something that has been a guiding principle of my life: 'Every choice you make counts toward your intent of being the best you can be,'" says Birch. "SDR has a tremendous track record in getting the weight off and keeping it off. They have surrounded me with a talented support team committed to helping guide guests in the right direction to achieve their personal goals. I look forward to meeting this new challenge at Shane Diet & Fitness Resorts."
For more information on Shane Diet & Fitness Resorts, please visit http://www.shanedietresorts.com or call 888-732-9034.