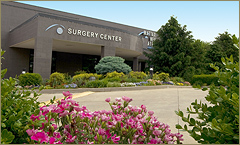 "Our first responsibility is to our patients and the quality of care that we provide to each and every one of them," - Dr. James Mattax
Springfield, MO (PRWEB) May 07, 2012
Mattax Neu Prater Eye Center has achieved re-accreditation by the Accreditation Association for Ambulatory Health Care (AAAHC/Accreditation Association). Accreditation distinguishes Mattax Neu Prater's surgical center from many other outpatient surgery facilities by providing a safe work environment and the highest quality of care to patients.
Status as an accredited organization means that Mattax Neu Prater has met nationally recognized standards for the provision of quality health care, set by the Accreditation Association. More than 5,000 ambulatory health care organizations across the United States are accredited by AAAHC.
"We believe our patients deserve the best," stated Mattax Neu Prater eye surgeon Dr. Thomas Prater. "When you see our certificate of accreditation, you will know that the AAAHC, an independent, not-for-profit organization, has closely examined our facility and procedures. It means that we as an organization care enough about our patients to strive for the highest quality care possible."
Ambulatory health care organizations seeking AAAHC accreditation undergo an extensive self-assessment and on-site survey by the Accreditation Association's expert surveyors—volunteer physicians, nurses, and administrators who are actively involved in ambulatory health care. The survey is consultative and educational, presenting best practices to help an organization improve its care and services.
"Our first responsibility is to our patients and the quality of care that we provide to each and every one of them," said eye surgeon Dr. James Mattax.
With five facilities across the Ozarks, the eye care professionals at Mattax Neu Prater offer a wide variety of vision correction choices, including customized bladeless LASIK, and state-of-the-art cataract surgery with lifestyle multifocal replacement lens implants. Eye Surgeons James B. Mattax, Leo T. Neu III, Kenneth W. Neu, and Thomas G. Prater also provide treatment for glaucoma, diabetic retinopathy, macular degeneration, and dry eyes. Optometrists Michael S. Engleman, Matt T. Smith, and Marla C. Smith provide comprehensive eye exams, and contact lens services onsite at full-service optical shops.
The Accreditation Association for Ambulatory Health Care (AAAHC/Accreditation Association), founded in 1979, is the worldwide leader in ambulatory health care accreditation. The AAAHC serves as an advocate for the provision of high quality health care through the development of nationally recognized standards and through its survey and accreditation programs. AAAHC accreditation is recognized as a symbol of quality by third-party payers, medical organizations, liability insurance companies, state and federal agencies, and the public.